Mini versions of pretty much any beauty product make easy and awesome stocking stuffers, but these mini fragrance sets are especially perfect for those scent-lovers who like to switch up their spritz on occasion. With a sample set at your disposal, it's easy to experience a few new fragrances pressure-free and over time so that you're building your fragrance obsession and collection at your own pace. Plus, these mini flacons also make traveling with your go-to juice a breeze. Here are eight mini fragrance sets to gift this holiday season.
Atelier Cologne Nécessaire Curated by Sylvie Ganter & Christophe Cervasel ($95)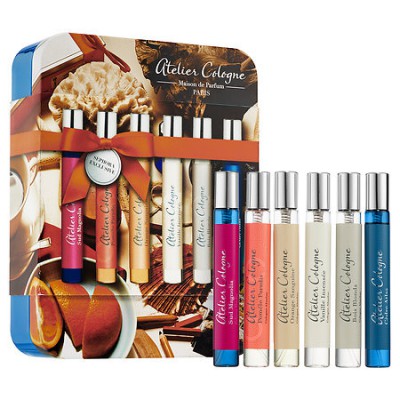 Leave it to the perfume purists to show you what's good in scents this year. In this colourfully packaged set comes with six of Atelier Cologne founders Sylvie and Christophe's favourites. Travel-sized sprays in Sud Magnolia, Pomélo Paradis, Orange Sanguine, Vanille Intensée, Bois Blonds and Cédre Atlas hit a range of notes from energizing citrus to sensual white amber in the brand's noteworthy concentrated cologne formulas.