Mini versions of pretty much any beauty product make easy and awesome stocking stuffers, but these mini fragrance sets are especially perfect for those scent-lovers who like to switch up their spritz on occasion. With a sample set at your disposal, it's easy to experience a few new fragrances pressure-free and over time so that you're building your fragrance obsession and collection at your own pace. Plus, these mini flacons also make traveling with your go-to juice a breeze. Here are eight mini fragrance sets to gift this holiday season.
Beauty Boutique Fragrance Sampler & Certificate For Her ($80)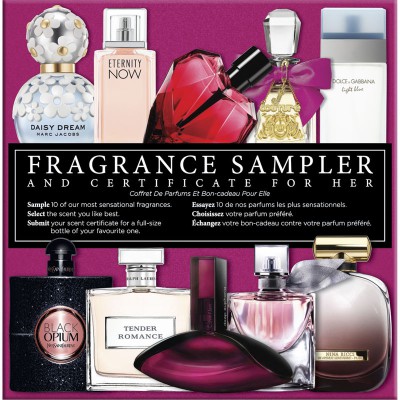 Don't want to tie your friend down to one brand? Gift her Beauty Boutique's annual sampler set, which offers up 10 bite-sized versions of some of the bestselling (and smelling) fragrances–including some faves like Calvin Klein Deep Euphoria, Nina Ricci L'Extase and Yves Saint Laurent Black Opium–along with a gift certificate that she can swap in for the full-sized bottle of the scent of her choosing.