Mini versions of pretty much any beauty product make easy and awesome stocking stuffers, but these mini fragrance sets are especially perfect for those scent-lovers who like to switch up their spritz on occasion. With a sample set at your disposal, it's easy to experience a few new fragrances pressure-free and over time so that you're building your fragrance obsession and collection at your own pace. Plus, these mini flacons also make traveling with your go-to juice a breeze. Here are eight mini fragrance sets to gift this holiday season.
CLEAN Reserve Six Piece Travel Layering Collection ($67)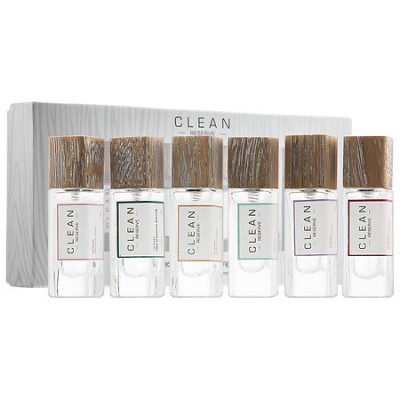 This scent pack is a traveler's dream. Each of the six scents here are linear (or, designed to be unchanging on the skin), which makes them ideal for layering and blending. If you're into using essential oils as perfume, you'll love CLEAN. These scents are all fresh and bright, with notes ranging from translucent floral to warm cotton.