Mini versions of pretty much any beauty product make easy and awesome stocking stuffers, but these mini fragrance sets are especially perfect for those scent-lovers who like to switch up their spritz on occasion. With a sample set at your disposal, it's easy to experience a few new fragrances pressure-free and over time so that you're building your fragrance obsession and collection at your own pace. Plus, these mini flacons also make traveling with your go-to juice a breeze. Here are eight mini fragrance sets to gift this holiday season.
NEST Eau de Parfum Collection Coffret ($50)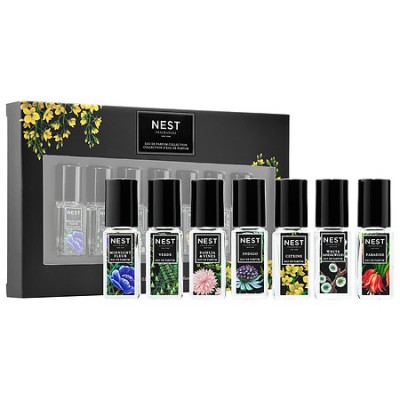 NEST founder Laura Slatkin collaborated with master perfumers to create this collection, which is based on the super-distinctive botanical paper mosaiks of 18th century artist Mrs. Mary Delany. Scents were created to capture the essence of each of the botanicals on the packaging–Midnight Fleur, Verde, Dahlia & Vines, Indigo, Citrine, White Sandalwood and Paradise.