Autumn always marks a happy time in the life of a beauty junkie as it's when  beauty brands pull out their biggest show-stopping product innovations and collections for their die-hair fans. This season, we're thrilled about the crazy amount of innovation in the nail section of the beauty aisle. Here are six new nail collections for you to try out this fall with product innovation and shades that will make your jaw drop!
Quo By Orly Breathable ($11, at Shoppers Drug Mart)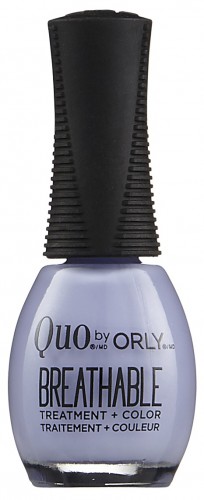 Keeping the health of our digits in mind, this collection by Quo by Orly has a built-in technology similar to contact lenses allowing your nails to breathe and receive oxygen and hydration while you're rocking your favourite polish shade. The formula is uses argan oil and vitamins B5 and C to both moisturize and heal damaged nails. We love it because you only need two coats, so it's a fast fix for vibrant nails. The best part: The 18 shades include classy neutrals, muted pastels, bold brights and classic dark shades allowing everyone to find their favourite colour.