The Clarisonic has become a staple in many beauty maven's skincare regimens, so when Clarisonic launched its at-home pedi system last year, there were a lot of people jumping on the bandwagon, myself included. While I've gone through phases with how consistently I use my Clarisonic for my face, I'm always impressed by how clear and smooth my skin looks and feels afterwards, but, like many on-the-go too-lazy-to-care-at-night girls, my device often falls by the wayside until, true to form, a couple weeks later I'll pick it up and start the cycle all over again. In the summertime, I go through the same thing with my feet. I know I should be buffing them in between pedi appointments (because gross feet is a serious concern of mine), but I just can't bring myself to do it on the regular.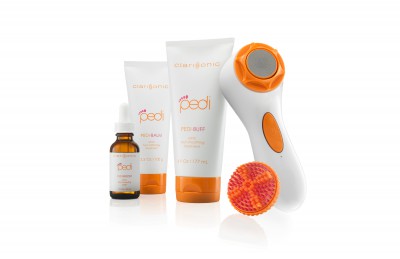 Here's why: As a stand-alone, "this is the only pedi I'm ever going to get" device, the Clarisonic doesn't work for me. As an in-between, follow-up treatment to my pedi (within the first week–after that I basically just need to go back for another pedi. I have an addiction to sandals), this is great. The device comes with a wet/dry buffing brush head and a smoothing disk, as well as the Pedi-Buff, Pedi-Boost and Pedi-Balm to treat your tootsies. You're supposed to use the buffing brush daily or a few times throughout the week and the smoothing disk weekly, but I just found that the smoothing disk was so small and tickled way too much and didn't do much. After going for a pedi, the buffing brush and Pedi-Boost and Pedi-Balm helped keep my feet looking pristine, but even after heading Clarionic's advice for frequency and the order in which you should use the various device heads and potions, my feet still felt a bit rough.
Maybe there's a certain point to which this device and system can work for you, but if you have even moderately calloused feet, you might just be better off paying the cash every other week and going to get a professional to give you a pedicure than shell out the cash for this system. If you're looking for something for in between appointments, you may be better off with the more budget-friendly pumice stone or buffer and foot cream instead.
Clarisonic Pedi Sonic Foot Transformation Set, $230, available on Clarisonic.ca & Sephora.com.