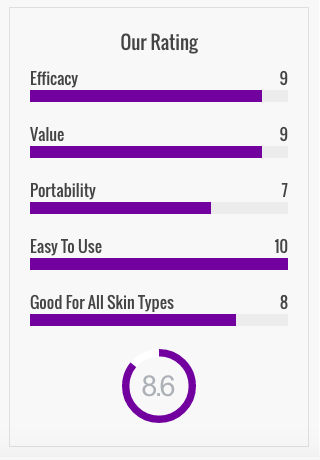 As someone who is constantly testing out new skincare and beauty products it's incredibly important for me to go to bed with clean skin. No matter what time of night it is, I REFUSE to hit the sheets with any trace of makeup on. Cleansing oils, cleansers, face wipes – you name it, I've got it! Clarisonic has become the authority in clean skin. Their sonic brushes have become a staple among beauty editors, makeup artists and all around makeup junkies everywhere. So when they launched the Smart Profile my interest was piqued. I wanted to know just how much better this brush could possibly get!
The "Smart" in its name refers to the new technology it uses. The brush heads are designed with a chip to let the device know what area of the face or body you are cleansing; it automatically adjusts the speed and cleansing time for different areas. That's a great feature as you can use one device for all your cleansing needs instead of purchasing multiple ones. Just be sure to use the proper brush head. My favourite "smart" feature is that it also tracks how many minutes you've used the brush head – that way you can make sure to switch it out at the appropriate time.
While using the Smart Profile, the first thing I noticed was how powerful it was, without being harsh or irritating on my skin. In fact, while the previous versions of the device have been proven to cleanse skin 6x more than manual cleansing, the smart profile cleanses up to 11x better. The device also went under clinical studies to show that it can remove up to 30x more skin damaging pollution than just washing your face with your hands. When you live in an urban environment like I do, it's hard not to be exposed to pollution, grime and daily dirt just from stepping outside, so I love that there are studies showing these results.
I think my favourite feature of the device is the turbo setting. There are some days when my skin is feeling extra dirty or congested. That's when I push the turbo button which temporarily speeds up the oscillation of the device, helping to get rid of any rough patches or build up I may have.
While I don't use the body brush often, when I'm feeling tight in the neck and shoulders I love giving myself a mini neck massage simply by pushing the speed button – this turns on the pulse setting which was great for relieving sore muscles gently.
I've been using this almost daily (I skip it on days when I exfoliate) and I've been loving the results. While I still get breakouts, they don't last as long as before. I've also been seeing an improvement in my skin's texture, with it appearing more even; my foundation glides on smoothly and I find I am using less product, as there appears to be less to cover up. That's a HUGE bonus in my books.
While the price tag may seem big a first glance, in my opinion it's better to invest in your skin. Any skincare or beauty product will go on better when dealing with healthier skin. And if you think about it, using the device once a day, everyday for 3 months is like spending $3.33 a day – well worth it for me!
For me, the one draw back is the portability. When trying to pack light this isn't the easiest device to bring along. A travelling case would make this perfect for me.
The Clarisonic Smart Profile is available at Sephora and online at Clarisonic.ca and retails for $299.
BeautyDesk readers have an exclusive chance to receive free express shipping from now until Nov 30th, 2015. Purchase the device via Clarisonic.ca and use promo code "GLOBALSMART".