So, you've started breaking out. You're way past the point of your adolescent acne days, yet your skin can't seem to calm itself down. It sucks, and it happens more often than you think. Whether it's stress-related or your hormones playing tricks on your normally chill complexion, it's not fun. And while we'd all like to just snooze away our skincare problems, sometimes you need break out the big guns to take care of the problem in the form of one of our favourite brands (see why here).
Your new blemish skin saviour? Philosophy's Clear Days Ahead line. This four-piece collection targets acne-causing bacteria (and, no, not just for youths) to give you a clear complexion in a matter of days.
All four products are infused with salicylic acid, which works wonders when it comes to blemishes. Not only does it help provide a deep clean, getting into clogged pores, it also helps prevent sebum production (the stuff that often causes breakouts) and is an anti-inflammatory, which will help reduce the size of your blemishes while it helps to prevent them. The downside? It can be dehydrating, and over-dehydration is a common mistake that a lot of people with acne-prone skin make. While you want to minimize the appearance and frequency of blemishes, you want to make sure you're still giving your skin the moisture it needs, whether that's from a weekly mask, hydrating toner or using a lightweight overnight gel mask that has skin-quenching ingredients like hyaluronic acid.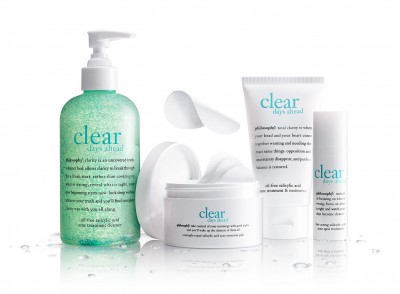 The lineup:
Philosophy Clear Days Ahead Oil-Free Salicylic Acid Acne Treatment Cleanser ($30) is an energizing daily cleanser that gently unclogs pores and helps to reduce 95 per cent of acne-causing bacteria.
Philosophy Clear Days Ahead Oil-Free Salicylic Acid Acne Treatment & Moisturizer ($46) is an oil-free treatment moisturizer that helps to reduce breakouts and prevent future ones while keeping skin hydrated.
Philosophy Clear Days Ahead Fast-Acting Salicylic Acne Spot Treatment ($25) targets aggressive blemishes, stopping them in their tracks while allowing them to heal safely for clear skin.
Philosophy Clear Days Ahead Overnight Repair Salicylic Acid Acne Treatment Pads ($49) help to clear skin while you sleep, harnessing the blemish-busting power of salicylic acid, while using glycolic and mandelic acids to help even out skin tone and minimize the appearance of pores.