Let's be honest, every gal faces battles with her hair. First it's mastering the perfect blowout and then it's figuring out how to make it last. The latter often involves reaching for that chemical-laden aerosol spray can of dry shampoo or the container of baby powder that leaves you and your roots in a cloud of dust. Hair powders are the new kids on the hair care block and who better to tell us all about them than Mordechai Alvow, New York-based editorial hairstylist and founder of botanical-based line of restorative hair care Yarok?
We asked Alvow to give us the scoop on what makes hair powders unique and why we should be ditching conventional dry shampoos in favour of them. According to Alvow, we should be taking notice of hair powders and incorporating them into our hair care routine because of their multitasking abilities. Not only do they blow their drugstore counterparts out of the water in the environmentally-friendly category, but they do double duty in creating and maintaining your hair's style. In Alvow's line of work, he has to be ready to tackle all types of hair on set working on runway shows and editorial work. "Some models show up on set with flat, clean hair and others with oily hair that hasn't been washed. I created the Feed Your Style Dry Shampoo/Styling Powder out of a need to revive the hair and create texture and movement no matter what i'm working with," says Alvow.
When it comes to application, Alvow explains: "As you would with a salt shaker, I like to sprinkle hair powder directly onto the hair, along the roots, waiting 2 minutes and then combing or tousling it through. Hair powders allow direct application without having it all over the room or on your clothing."
If we've won you over, here are some of our top hair powder picks.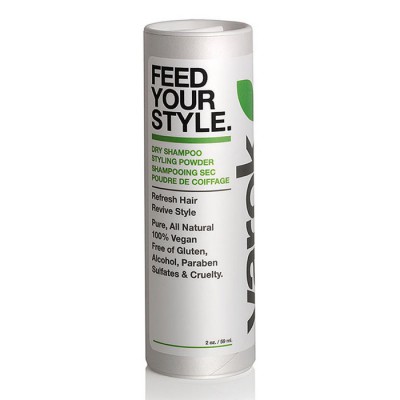 The Yarok Feed Your Style Dry Shampoo Styling Powder ($25) does double duty refreshing hair between washings with an aromatic spruce-up and acting as a styling aid on clean hair to bring out texture and movement. Made with organic arrowroot tapioca to absorb excess oils and organic aloe vera leaf powder and French green clay powder to heal, restore and detoxify, this product revives your hair from scalp to ends. We can't get enough of the bright, fresh scent! Available in two sizes and suitable for all hair types and colours.