Your eco-friendly-pal may be into makeup, she may not. She may wash her face exclusively with paraben-free products, she may not. She may like the idea of shopping local and organic, but doesn't have the time or the money to always make a point of it. Maybe she's a dabbler, maybe she's only an aspirant. Either and all ways, this selection of plant-based products make the green choice feel so right, regardless of "how green" you are, really.
---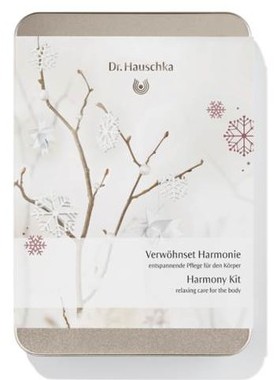 Dr. Hauschka's Harmony Kit
With lavender sandalwood body wash and body cream, rose nurturing body oil and body cream, lavender bath essence, and rose nurturing bath essence, this kit is pretty much a natural spa experience in a box. All Dr. Hauschka's products are made from raw, organic materials from the brand's own medicinal plant garden, and are free of  synthetic fragrances, dyes and preservatives. This kit provides is a totally sensual experience – an ideal intro to the Dr. Hauschka's deluxe brand.