Ever since I decided to green up and clean up my skincare routine, I've been on the hunt for a facial moisturizer that I could fall in love with. The requirements? It needed to be full of natural ingredients that I recognized. And it needed to leave my skin moisturized. Enter, Dr. Roebuck's Pure Moisturizer ($55).
Dr. Roebuck's is a brand out of Australia, founded in 1978 by physicians who were concerned about the eczema of their twins Kim and Zoe. Now, Kim and Zoe are in charge and the brand it committed to providing safe and effective skin care with minimal ingredients.
So first off, what's in it? The ingredient list reads: Purified water (aqua), cetearyl alcohol, ceteareth-20, glycerin, paraffinum liquidum, stearic acid, dehydroacetic acid (natural preservative) and benzyl alcohol (natural preservative). That's it. Plus it's BPA- and paraben-free.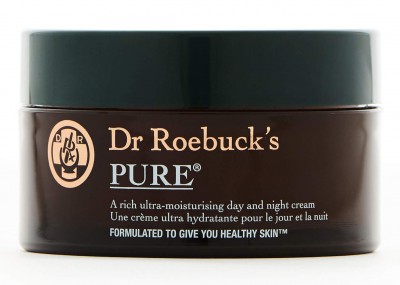 The texture is thick, opaque and white—which doesn't necessarily seem like it will be the best moisturizer—but the absorption is great! I use it at night, as the last thing I put on my face before bed, and it quickly absorbs into my skin leaving it feeling immediately hydrated. I wake up the next morning and my skin is still soft and moisturized.
The brand positions this as a rich moisturizer for sensitive skin. It calms, nourishes and protects, which is what you want out of any moisturizer. The best part I find though, is that it works well with all of my other skincare products. I'm not worried about mixing harsh or irritating ingredients with this moisturizer. Instead, I know that I can follow up any skin-care steps that might make my skin a little sensitive (thinking about lactic acid or retinol) with this moisturizer and it will help to repair and soothe my skin so it's good to go the next day.
Although this is a moisturizer for sensitive skin, it is very thick and rich. If you suffer from acneic skin, I would test it out before committing—but otherwise this is one of the best moisturizers I've found.
Main image via @drroebucks