If this is what 77 looks like, I say bring it on.
Hollywood legend Jane Fonda is the cover star of W Magazine's June/July 2015 issue and she looks absolutely stunning. The Oscar-winning actress is the oldest person to grace the cover of the magazine but age doesn't matter. She looks flawless. Her blonde hair is styled with plenty of volume and her make-up is simple, classy and neutral with simple black liner and full, fat lashes to bring out her blue eyes. In the article, writer Lynn Hirschberg wrote, "Her ramrod posture and lean figure would be remarkable at any age, but for a woman closing in on 80, her presence is staggering." The magazine calls her a 'sex symbol' and 'fitness queen' and in a revealing interview she opens up about how she's maintained her glamorous look.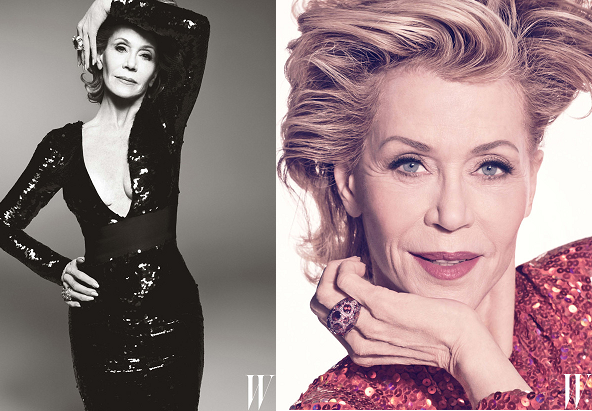 FASHION
"I think it's a hoot that, at my age, people are calling me a fashion icon," she told the magazine. "Truthfully, my relationship to fashion has always been strained. When I was starting out as an actress in New York, I worked as a model because I needed to pay for acting classes. But I didn't have what it took to be a model. I hated all the emphasis on how I looked, and I never paid much attention to clothes." But when it comes to fashion she sure knows what she wants.  "I'm best when I'm wearing something structured, with no frills or bows. Something that will show my waist and bum, because I've always had a good bum."
Fonda revealed that she's had some help over the years to get the look she has. "I did have plastic surgery," she said. "I'm not proud of the fact that I've had it. But I grew up so defined by my looks. I was taught to think that if I wanted to be loved, I had to be thin and pretty. That leads to a lot of trouble." She went on to add: "I'm older now, and I have to be more self-conscious. When you're young, you can get away with more. I always thought that being self-conscious was a negative. But now I feel differently."
STRENGTH
The actress is currently starring opposite Lily Tomlin in the Netflix series Grace and Frankie and says: "My character asks, as we all ask at various times in our lives, 'What do we do now?!' And the only thing you can do is keep going." Fonda's career continues to grow reminding us that age is just a number. She said: "On my bad days I say to myself, 'Fonda, you're resilient, and you've never stopped trying to get better.' That's my mantra, and it's saved me many, many times." She's got the look and confidence and this woman shows no sign of slowing down. She is a reminder that life goes on and beauty isn't exclusive to 20-something models.
The new issue of W Magazine hits newsstands on June 2nd.