We talk a lot about the different ways to protect our hair and keep it looking pristine, but we all know the realities of the stress that we put on each strand, from colouring it to heat styling and, of course, environmental and emotional stress, too. Which is why it's so great when we get to try out new treatments that are geared towards repairing our hair from the inside out.
The L'Oréal Professionnel Pro Fiber treatment has been in the making for 15 years and is a result of patented technology, the APTYL 100 molecular complex. It repairs the damage in your hair that has been caused as a result of heat styling, colouring and environmental stress—but in a way that marries both an in-salon service and at-home care.
I decided to test it out myself and see what the buzz is all about. The first step in this treatment starts at the salon and your hairstylist will address the level of damage your hair has by asking you questions about your hair concerns and needs, how often you wash and style your hair, etc.
After the assessment, the stylist will recommend which Pro Fiber Treatment is best for you. There are three levels from slightly damaged (Revive Treatment) to medium damage (Restore Treatment) to very damaged hair (Recover Treatment). Of course, yours truly fell on the highest end of the spectrum with very damaged hair.
To start the Recover treatment, my hairstylist washed my hair with shampoo and conditioner before applying a primer concentrate and then a mask, which is what makes the treatment as effective as it is. After letting the mask and concentrate sit, my hairstylist rinsed it out and blow-dried my hair, leaving behind a seriously repaired mane.
You continue to use the Recover Shampoo ($28), Conditioner ($29), Masque ($29) and Leave-In Serum ($29) as you normally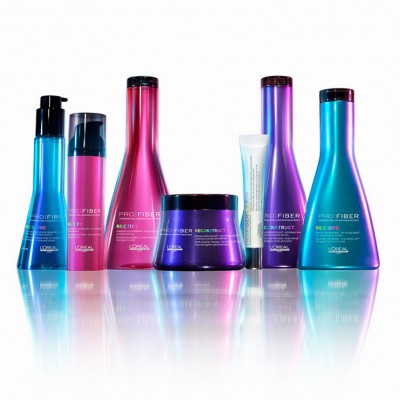 would (you can probably just use the masque once a week) and on your fourth shampoo, switch the Conditioner and Masque for the Re-Charge ($35) to boost the treatment once again. Keep doing this for a few weeks (it could last up to six or eight depending on your level of damage and how frequently you wash your hair) until you need to go back to the salon for another treatment.
The verdict: I love how my hair felt after the first wash. The scent is incredible and the hair feels soft and smooth and definitely not my regular texture. After the in-salon treatment, I repeated the treatment at home followed by the Re-Charge. So far, my hair feels stronger with far fewer split ends and my hair was the shiniest it's been.