The Smoothing Blowout Spray is a new product from New York based celebrity stylist Jeff Chastain. Touting an all-in-one heat protecting, blow-dry smoothing benefits, it aims at creating a polished blow out that doesn't fall flat and, for the most part, this is thanks to it's less-is-more usage directions. Four to six sprays for the whole head is recommended but, for me, I used 10, as I have extra long, extra thick hair and, at the $27 price tag, 10 sprays max per blow dry means I'll be able to get proper use out of this spray before it runs dry. The smoothing effects are visible, however, as this product also wants to give some volume to the hair, they are not the most noticeable. As for the lasting effects, I'm on day three and so far, my hair won't quit. It's still lifted at the roots, more so that a regular blow dry would be on the third day and I'm sure I can let this go for another day without worry of my hair looking greasy at the roots. In regards to damage control, my hair didn't end up looking worse for wear after the blow dry, which is cool but, knowing that the product contains vitamin B5, I'm feeling confident in using it again to stave off heat damage. The scent, however, makes up for a regular length blow dry session, as it contains notes of ripe, fresh peaches and white woods. Not too heavy and also uni-sex friendly, the scent is hands down the main reason to go for this product.
For any of you out there that have tried the myriad blow-out sprays that claim to smooth the hair and create flawlessly straight locks, you're sure to understand the often problematic aspects of these products which often leave the hair smooth and straight but also lifeless and stale looking. The final results were smooth hair with aspects of volume, especially at the ends and the roots, which are the two places you want your hair to swing and move however, keep in mind, much like with most cosmetics and hair care, using less is definitely going to give you better results.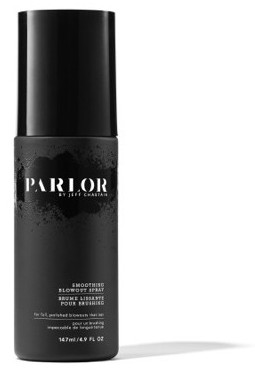 Available exclusively through BirchBox.ca, this line of hair care products is meant to take the guess work out of styling products. Most stylists use multiple products, a "cocktail" if you will, to create that perfect, fresh-out-of-the-salon look that we all find so hard to recreate when we get home. Each of the products in the line up (six in total: four available via BirchBox.ca now and two more launching in May 2015) combine ingredients and benefits into single-use products, making your hair life easier. For those unfamiliar with Birch Box, this monthly subscription based beauty-junkie service delivers five hand selected, deluxe sample size products of the newest, coolest items in the beauty world every month straight to your door. Love the products? You can buy them in their full sizes via the website. It's the ideal, one-stop shop.