We all strive for the perfect pearly whites, the freshest breath and that oh-so-smooth clean feeling, and we are inundated with products to help us tackle our teeth, tongues and gums. Some promise to whiten and brighten, while others attempt to blast every last particle out of our mouth with the intense burn of peppermint with a simple swish. Total-body health starts in our mouth, and a good oral care regimen will keep you on the right track in maintaining your overall health. We've rounded up some of the latest tools, tricks and natural alternatives plus some healthy teeth tips to help keep your chompers clean and sparkling all day long.
---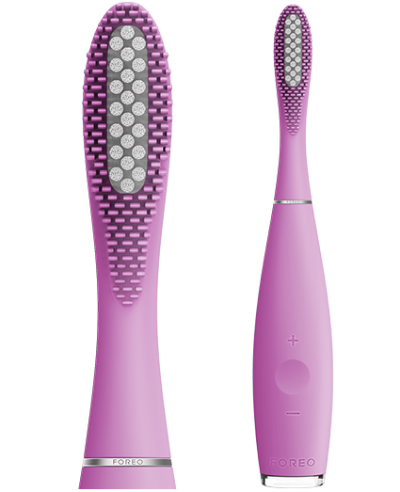 Foreo ISSA Electric Toothbrush, $183
Not only does this electric toothbrush look sleek and cool, it has some great bells and whistles that sets it apart from the rest. Made of quick-drying, non-porous, medical-grade silicone, this brush resists bacteria build-up making it a much more hygienic choice. The brush head (which is designed to last a whole year) consists of soft and flexible silicone bristles that don't scratch tooth enamel or damage gum tissue. Bonus: It is completely waterproof and one hour charge lasts up to 365 uses.