We all strive for the perfect pearly whites, the freshest breath and that oh-so-smooth clean feeling, and we are inundated with products to help us tackle our teeth, tongues and gums. Some promise to whiten and brighten, while others attempt to blast every last particle out of our mouth with the intense burn of peppermint with a simple swish. Total-body health starts in our mouth, and a good oral care regimen will keep you on the right track in maintaining your overall health. We've rounded up some of the latest tools, tricks and natural alternatives plus some healthy teeth tips to help keep your chompers clean and sparkling all day long.
---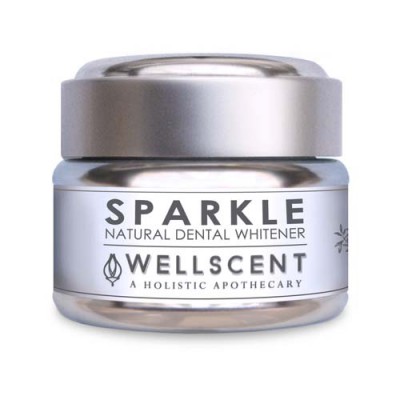 WellScent Sparkle Natural Dental Whitener, $56
Holistic Apothecary brand Well Scent has formulated a collection of products to assist you in the maintenance of good oral hygiene. This product touted as being a natural teeth whitener and whole mouth herbal detox is a natural alternative to toxic mainstream teeth whitening treatments. Combines Activated Charcoal, Myrrh, Plantain, Baking Soda, Red Root, Neem, and Echinacea and is naturally anti-microbial, anti-inflammatory, anti-viral and anti-septic. Rather than adding to the body's toxic burden while whitening, Well Scent believes in using what the earth provides to detox our mouths, eliminate plaque, strengthen tooth enamel and naturally brighten our teeth to help them sparkle.