Go ahead – hit snooze on your alarm one more time and rest assured that with these quick and easy 5 minute hairstyles, you'll have your hair looking fresh and fab for your morning routine, leaving you with more time to sleep in!
---
2-Minute Roll-Up Updo via Hello Natural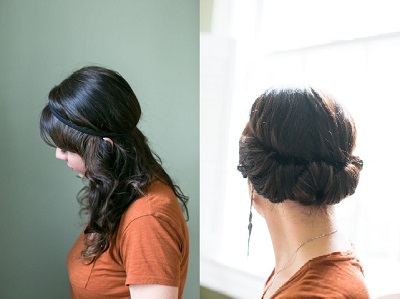 Put the elastic headband on like a crown, so it rests just above your ears. Don't tuck your hair behind your ears – leave it covering them. Gather your hair around the back of your head as if you were going to put it into a low ponytail. Roll the length of your hair into a twist and twist it up into the elastic, keeping tucking your hair into the headband until secure. Tuck the sides in and you're done.