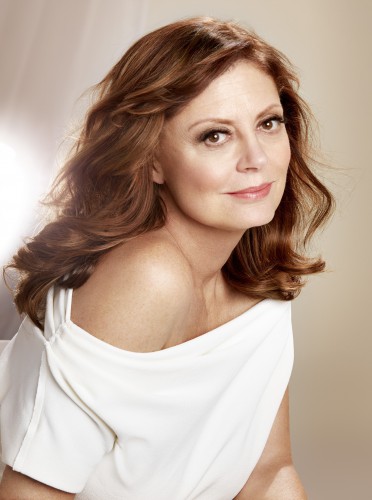 69 year old Susan Sarandon has been announced as the latest international spokesperson for L'Oreal Paris. Sarandon will be the face of Age Perfect skincare & hair color, which seems like an easy fit for the ravishing red head.
"Susan is a cinematic icon. She is strong, charismatic, and talented and has a compelling sense of self. Her outspoken activism, captivating film work, and authentic charm continue to inspire women to be fearless and believe in their convictions. She is a real woman of worth inside and out. We are honored to have Susan as a new Lorealista," said Cyril Chapuy, L'Oréal Paris Brand Global President.
Born and bred in New York, her distinguished career spans over four decades. Sarandon has played strong, multi-faceted characters in memorable and award winning films. Some notable roles include Thelma & Louise, Bull Durham and cult hit The Rocky Horror Picture Show. She garnered her first Oscar win in 1995 for her performance in Dead Man Walking with Sean Penn.
As a passionate activist both socially and politically, she has supported diverse causes including LGBT rights, environmental issues, human rights issues and the fight against racism. She was appointed a UNICEF Goodwill Ambassador and works globally to protect children's rights. When asked, she consistently refers to global issues and says, "When you are engaged in the bigger picture, you can't afford the space to become so self-involved that everything is a crisis for you". She demonstrates on a daily basis that it's empowering to volunteer."When L'Oréal Paris and Cyril first approached me, I was so flattered. The brand has always been a leader in helping in the empowerment and development of women. The very first time I heard 'Because I'm Worth It', it definitely was a shift in the framing of why you should look good. It had to do with women becoming the master of their own lives and decisions. It's an extremely powerful statement that has transcended time. Beauty comes from the inside; it's a state of mind. I'm proud to be a part of their message and to represent the L'Oréal Paris women," said Sarandon.
The five time Academy Award nominee joins the ranks along side actresses Julianne Moore, Naomi Watts and Blake Lively, and supermodels Karlie Kloss, Lara Stone, Natasha Poly, Liya Kebede, and Doutzen Kroes.  Susan Sarandon is true proof that age is simply a number, the newly minted grandmother shows us that life doesn't stop when you reach a certain age; in fact, it seems to be the opposite. "I look forward to being older, when what you look like becomes less an issue and what you ARE is the point."