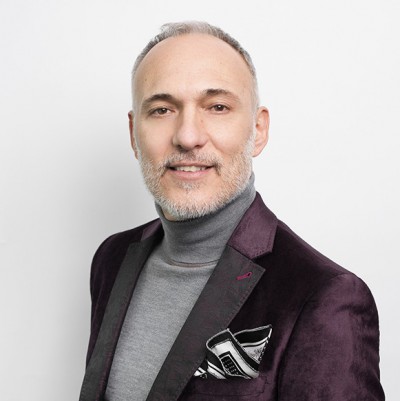 One of the most exciting yearly events in Toronto is always the Toronto International Film Festival (TIFF). During TIFF, Toronto comes alive with excitement, buzz and A-list celebrities. Often TIFF sets the bar for potential Oscar contenders both on and off the red carpet. We asked Eric Del Monaco, Official Hair Artist & Colourist for L'Oréal Paris Canada to give us his TIFF 2015 celebrity hair predictions, about his favourite TIFF 2014 looks and the tips & tricks to  achieve them at home.
---
Eric Del Monaco: One of the things I love about TIFF is it is glamorous, sexy and fun but also a bit more relaxed in terms of celeb styles than other red carpet events.  I think that's why the celebs love Hollywood North so much.
Last year we saw a lot of down-do's with free-flowing waves and slick side-parts that were beautiful and ultra-feminine. I think this year we'll see more up-do's including chignons, buns, and chic high-ponytails that are really dressed up and glamorous.
I like to see celebs go outside of their comfort level for the red carpet and try different looks. For example Julianne Moore was in town last year for two film premieres – Map to the Stars and Still Alice. For the day's press conferences she wore her hair lose with sexy waves, which you don't typically see on Julianne. It was beautiful and different for her! By night for the Map to the Stars premiere she sported a sexy low-ponytail and for Just Alice a sleek, side part.
For some of the celebs coming to TIFF 2015 – I would like to see:
Kate Winslet – who has been typically wearing her hair down and loose for red carpet appearances – I'd like to see her wear a stylish up-do this year to change up her look. She's stunning and it would be nice to show off that beautiful face more.
Rachel McAdams – I'd like to see her really add some movement to her current short bob to give it even more edge and movement/texture. She suits any style and I like how she is willing to try new things with her beauty looks.
My favourite celebrity hair looks from 2014:
---
 Julianne Moore
For Julianne's look for Map to the Stars – use a dollop of smoothing hair serum and run through the hair from mid-length (at the top of the ears) to the ends to smooth hair and create a sleek look to it. Next, create a side part and then pull the hair from the face and fashion in a low ponytail at the nape of the neck with a hair elastic.