You made it through the holidays but all the indulging and celebrating is now catching up with you. The gifts have been given, the bottles have all been popped, and the party is now over. You're tired, you're bloated, and your New Years Resolution to lose x number of pounds by x date is looming over your poor achey head. Sounds like somebody needs to detox. Of course, start with the obvious: drink lots of water, cut out alcohol and caffeine, avoid processed foods and sugars, blah blah blah, et cetera et cetera. But if you really want to kickstart your resolution and get back on track quickly, you should consider doing a cleanse. Here are four popular cleanses to choose from that you might want to try. Note: As with any other changes to your health routine, it's a good idea to do some research first and discuss your plan with your doctor or health care professional before committing.
---
Juice Cleanse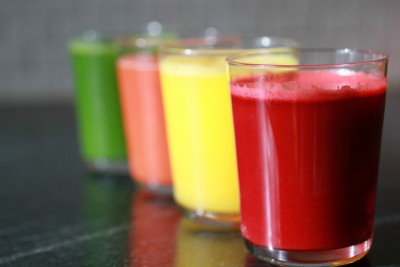 Image via wellandgood.com
What it is: Doing a juice cleanse, or as the cool kids call it, "juicing," is a type of fasting cleanse. Meaning that you don't eat. At all. You get all your nutrition from only drinking, you guessed it, juice. But this juice must be from raw veggies and fruits (sorry, wine doesn't count) so that there is no added sugar or any other harmful ingredients. You should only juice for three days at a time, too—don't try to be a hero about it because you could end up doing more damage than good.
What's great about it: Raw juices are jam packed with valuable nutrition: vitamins, minerals, antioxidants, fibre, protein, and more. This means that juicing will aid with digestion and detoxification, decrease inflammation, increase energy levels and hydration, and even helps improve your skin tone and texture. Also, all you need is a bottle full of good juice to replace your meal, meaning no cooking, no dishes, and the ability to consume all those nutrients anywhere at any time.
What's not-so-great about it: Quite simply: they're hard. No matter who you are, not eating for even a day can be incredibly challenging. Especially if you tend to consume more processed foods than natural ones, you may end up feeling dizzy, light-headed, or fatigued. Add to this the fact that juices are super high in sugar and you have a recipe for feeling like crap for a few days. Also, juice prepping can be costly in terms of both time and money.