You made it through the holidays but all the indulging and celebrating is now catching up with you. The gifts have been given, the bottles have all been popped, and the party is now over. You're tired, you're bloated, and your New Years Resolution to lose x number of pounds by x date is looming over your poor achey head. Sounds like somebody needs to detox. Of course, start with the obvious: drink lots of water, cut out alcohol and caffeine, avoid processed foods and sugars, blah blah blah, et cetera et cetera. But if you really want to kickstart your resolution and get back on track quickly, you should consider doing a cleanse. Here are four popular cleanses to choose from that you might want to try. Note: As with any other changes to your health routine, it's a good idea to do some research first and discuss your plan with your doctor or health care professional before committing.
---
Raw Food Cleanse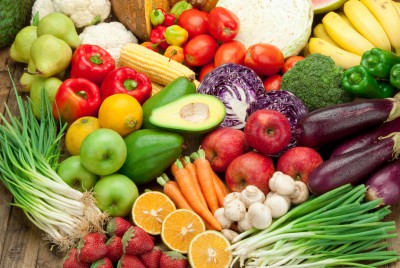 Image via rawfoodlife.com
What it is: One where you get to eat! You can only eat fresh unprocessed food but it's food nonetheless. The typical way to go about it is by fasting first (don't worry, it's only for a day) and then for the next week, feasting on tons of uncooked fruits, veggies, roots, leaves, and stems while avoiding refined sugars, nuts, seeds, flours, fats, oils, and meats.
What's great about it: Although juicing uses raw fruits and veggies, the fact that they come in juice form means that all those wonderful things they contain are not reaching their full potential of wonderful. In original whole form, most raw fruits and veggies have all good stuff at even higher levels than just their juice alone, especially fibre. Skins and leaves and all the other parts of the plant add way more nutritional value so you are consuming literally nothing but goodness. Your digestive system will be working at an impeccable rate which will aid in weight loss. Not to mention your skin, hair, and nails will be positively glowing.
What's not-so-great about it: Requires tons of planning and prep. Since you need to consume only fresh foods, you will probably be finding yourself at the market more often than usual (no frozen meal prepping here!). Also, getting enough protein can be challenging—avocados, for example, are high in protein but also high in fat so should be consumed with caution. But if you plan on extending your detox into a diet, you can add lean meats, nuts, and more avocado (because who wants less avocado?) to your raw food list to keep your protein levels up.