Torn between the chic and glam look of dark nail polish vs. the timeless and classic nude nail look? Two nail trends popped up via Sally Hansen's runway nails from the Stella McCartney Winter 2015 collection. Global Colour Ambassador Madeline Poole has us inspired to sport both this season.
---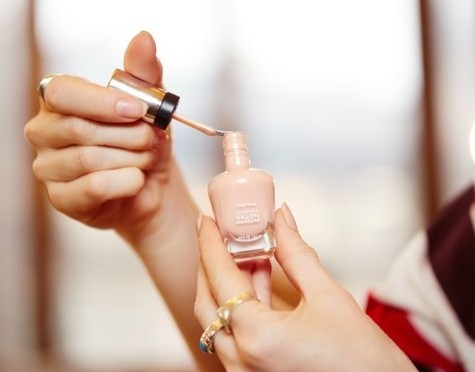 NUDE NAILS
If you thought nude nail polish was boring, Sally Hansen's Stella McCartney Winter 2015 collection will have you thinking again. A new take on a classic (shown at Paris Fashion week), this "elevated" nude shade, "Almost Almond", is a peach-tinted beige nude nail polish with an opalescent effect. Flecks of iridescence in the polish bring light to the surface when applied, giving the effect of peachy coloured pearls.
"The opalescent quality makes a neutral colour more complex while still being understated", says Poole.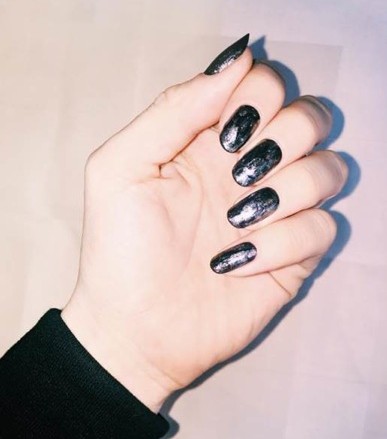 DARK NAILS
Nails in a dark shade with a metallic twist made the mark on the runway. Based around a distressed metallic leather look (the shoes, bags jackets and jewelry during Paris Fashion week all had these hints), the inspired-by polish appears mostly black but has a metallic lustre in the light. (Think: foil over black leather that's been sanded or worn down.)
Get the dark & dramatic look in three steps: First, paint the nails black. We like Sally Hansen Xtreme Wear in "Black Out". Once dry, grab a metallic shade like Complete Salon Manicure in Gilty Party. Start by wiping off excess polish off the brush, so you have just enough to create a scratchy looking effect on the nail. Cover the entire surface in the speckling of gold, allowing some of the black beneath it to show through. This metallic will give a distressed effect. Last, don't forget to apply a top coat for an even finish that will lock colour in.
When it comes to your best manicure at home – and to ensure it lasts as long as possible – make sure you're prepared and you've got your application technique down. A solid polish application with no chipping, flaking or smudges, no matter what the shade, never goes out of style.