As someone who is constantly on the search for products that truly treat my skin, when I heard of the latest from Kat Burki, I had to give it a go, if only for the decadence of their one product, the Power Trip Radiance Oil.
While I did try a few products in her line, I found the oil to be the most exciting. This little bottle contains a luxurious feeling oil that aims to condition the skin with potent yet gentle cold pressed oils. A cold pressed oil is more potent than a processed oil that has been heated, as, upon heating, many nutrients and active ingredients can be diminished in strength or even eliminated altogether. I also appreciated that this potent product addressed multiple skin concerns, such as anti-aging (wrinkles, fine lines, sagging, the works) and also combating overworked skin that finds itself blemish prone.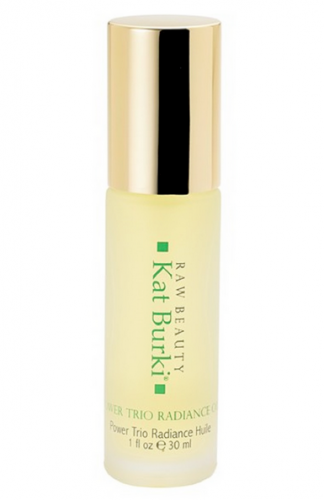 I put the Power Trio Radiance Oil to the test for a full two weeks. The first few days, I noticed my skins texture had softened and, within a few days after that, there was a reduction in the breakouts along my chin. They weren't gone completely, but they had reduced in size and the redness associated with that area was also diminished.
After the two week trial period, my skin had never looked or felt better indicating, to me, that you didn't need to use it for months on end before you saw stellar results. The Power Trio Radiance Oil can be used both in the morning and evening, which is ideal as a serum underneath moisturizer, too.
Considering this bottle is on the small side, it is packed with a powerful punch of serious skin care so, if you are consistently investing this kind of cash on your skin care products, you might think it's just par for the course but, for me, the price is a touch too steep to keep this up all year'round. However, rumour has it that Julianne Moore is a big fan of Kat Burki products. Considering she is in her mid 50's right now, so, maybe I'll be shelling out the $138/bottle for a chance to look like her.
Kat Burki Power Trio Radiance Oil is available at select Murale locations and online. It retails for $138.