When 'Keeping Up With The Kardashians' first hit tv '07, the media were quick to brand Khloe as the "fat sister". But that label has been crushed. HARD.  Jaws dropped when 'Complex' magazine and 'Women's Health Magazine' put the star on the cover of their latest issues revealing her best body ever. She calls it her "revenge body". A body "for all my critics who called me 'the fat one' for my entire existence". But Khloe Kardashian's weight loss (35lbs, to be exact) has been the result of hard-work, determination and a rigorous training regime. Khloe shares her fitness journey on her Instagram account which shows her late night workouts, heavy weight lifting and, of course, incredible results. The message is clear: this doesn't come easy. We caught up with the man behind her incredible transformation, celebrity trainer Gunnar Peterson. He's responsible for shaping some of the world's most enviable bodies including Jennifer Lopez, Angelina Jolie and Sofia Vergara, so it's no surprise that Khloe has been working with Gunnar. The fitness guru reveals the secrets behind her killer bod.
---
NEVER MISS A SESSION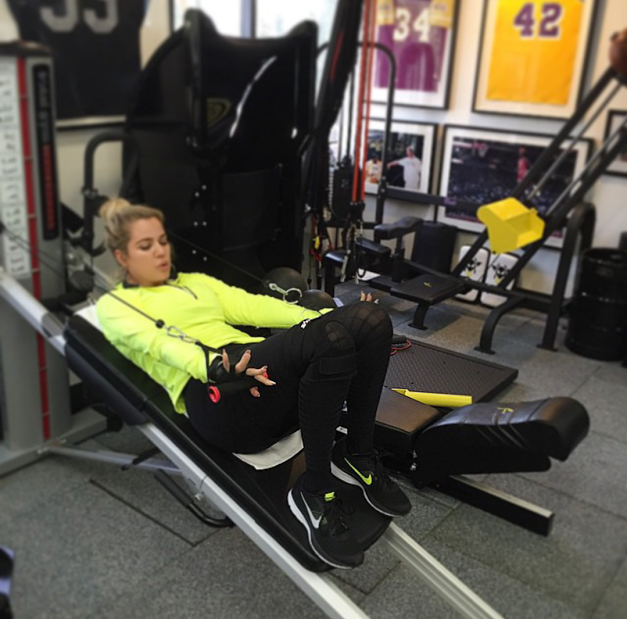 With our hectic lifestyles and busy schedules it's easy to opt out of a grilling workout but for Khloe Kardashian there's no excuse. She has NEVER missed a session yet. "She's always early. She is relentless with her gym commitment" said Gunnar. Even if she has a day full of engagements and plans – she always squeezes in her workout which often lasts for an hour. Khloe trains five days a week and weekends are often spent doing cardio.