It's a face that few people have seen without make-up and contouring, but Tyra Banks has decided to change that. The 41-year-old bravely shared a makeup-free selfie with the world revealing her almost unrecognizable face.
No filters. No make-up. No editing.
She wrote: "You know how people say #nofilter but you know there's a freakin' filter on their pic? Or maybe there's a smidge of retouching going on but they're lying and saying it's all raw & real? Well, this morn, I decided to give you a taste of the really real me," she shared, adding, "I wanted to smooth out my dark circles so badly!!! But I was like, 'Naw, Ty. Show 'em the REAL you.' So…here I am. Raw. And there YOU are…looking at me, studying this picture. Maybe you're thinking, 'Whoa, she looks ROUGH.' And if you are, great! You deserve to see the REAL me. The REALLY real me. #RawAndReal."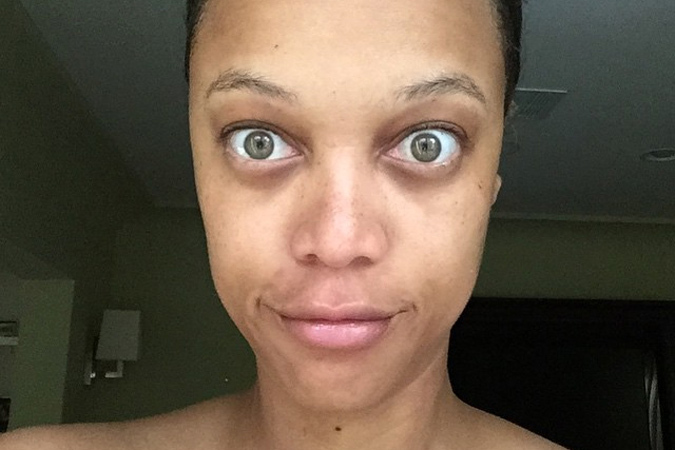 Tyra has modelled for over 25 years and despite countless photo-shoots, this is the first time fans get a glimpse of her natural beauty. With over 100,000 likes on Instagram the photo is resonating with people everywhere. The model, who is currently preparing for a reality show with fellow model Chrissy Teigen says her modelling career is thanks to the magic of make-up.
"You know how some women wake up looking all refreshed and don't need any makeup? You know who I'm talking about: those ladies with naturally rosy cheeks and sky-high cheekbones. You're probably thinking, "Yeah, Tyra, like you!" Well, guess what? I'm not one of them! I paint my pretty on! I give myself a TYover EVERY SINGLE DAY. I believe natural beauty is kinda of not fair. But I also believe make up is the great beauty equalizer. Everyone deserves to look and feel fiercely beautiful! #TyTyTruth: Without makeup, I never would've been a supermodel."
American's Next Top Model is indeed human after all.