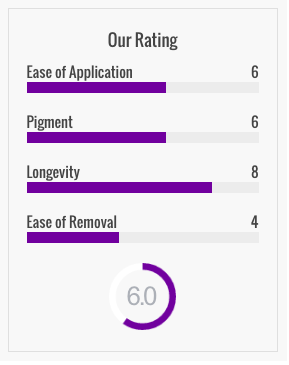 I love Benefit. I love everything about the brand: the cheeky packaging, the fun, flirty mentality it promotes and, mostly, the products. For the first time in a very (very) long time, I don't love one of their products. When Benefit launched They're Real! Mascara a few years ago, it quickly became a cult favourite and a go-to staple in many a beauty bag, mine included. When they launched They're Real! Push-Up Liner last year promising a flawless flick, no matter your eyeliner expert level, I tried it once, being a cateye novice myself, hoping to have finally mastered the coveted even eyeliner. After one try, I gave up, particularly after I had an unfavourable experience with the They're Real! Remover. Now, Benefit has launched They're Real! Mascaras and Push-Up Liners in four colours (Beyond Brown, Beyond Blue, Beyond Purple and Beyond Green) and I thought I have to give it one more shot – I'm a real sucker for a coloured liner anyway.
I have to say, as much as I love the mascara and will forever be a believer in the brand, I wasn't overly impressed. The whole point is that with the chiselled tip, you can just glide the stick along your lash line for an instantly flawless cat eye, with the most perfect flick at the end. I found the tip tugged a bit (maybe I needed a primer or something on my eyes?) and that I needed to go over it a couple of times to get the desired level of pigment, colour application and an even line. Even the colour itself was a little deceiving. I tried Beyond Blue (because I've always gravitated to purples, browns and blacks with my brown eyes, so I thought I'd change it up a bit), but it came out more on the navy side than the bright true blue that the packaging suggested. Yes, I know, you shouldn't judge a book and all that, but if you're saying blue, make it blue, not navy.
Maybe there's a learning curve with the chiselled tip and gel eyeliner formula, but I just wasn't getting it. I found that a regular liner was much easier to control. Plus, as a contact lens wearer, my eyes are super-sensitive and I need to be careful what kind of eye makeup remover I use, so, after my last run-in with They're Real! Remover, I opted against it. My regular micellar water got it off at the end of the day, but just barely. It felt like during the day the liner was slowly disappearing, but when it came to actually take it off, this thing was stubborn.
All in all, I still love this brand and one product won't change that, but I think for now, I'm going to stick with my felt tip pen liner instead.
Benefit They're Real! Push Up Liners are available for $31 at sephora.com