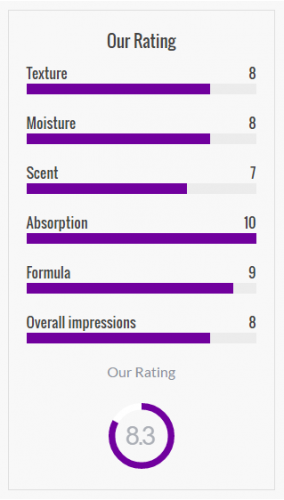 No matter how diligent you are with sunscreen, sometimes those pesky signs of aging creep up, and they're usually in the most unfortunate places. I'm always diligent about sunscreen on my face because wrinkles and signs of sun damage are the worst, but his year, I noticed deep wrinkles forming on my chest after a few hours in the sun. All my worrying about my face, and I completely lost track of the delicate skin on my chest.
I suppose I should have seen this day coming. I'm not exactly one of those women who can wear a bralette under her shirt and nothing else. (Actually, I'm one of those women who wears a bralette over her regular double D cup for the extra support.) The two-bra system was an important discovery for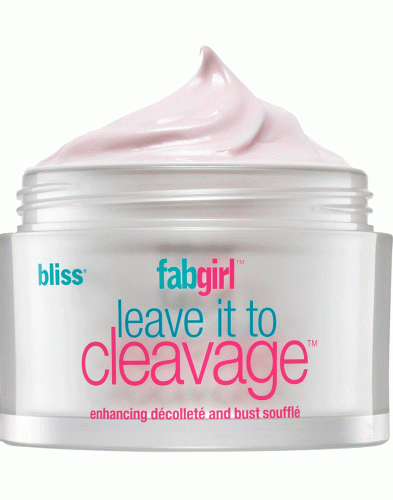 me, but all that compression plus time in the sun left my chest looking drier than a BBC sitcom. So when I got my hands on the Bliss Fabgirl Leave it to Cleavage ($57), I was excited to to help the ladies out.
Those cleavage lines are not messing around, but neither is Leave It To Cleavage. With its combo of caffeine and adopofillin for firming, shea butter and coconut oil for moisture and a barely noticeable pearlescent sheen, this cream has all the right stuff.
I generously applied the bust soufflé before bed and was please with how quickly it absorbed into my skin. When I woke up, the lines were significantly reduced, my skin felt hydrated and looked tighter than when I went to bed. The best part is that the formula is so lightweight and fast-absorbing that I didn't even notice the extra layer of product on my skin.
I am not really one to stick to an extra step in my beauty routine unless I see immediate results, but Leave it to Cleavage makes the cut. The jar has a generous amount that will last while applying everyday, and my skin is loving the extra attention. If you're one of my fellow busty ladies, if your chest got hit with some extra sun or you have a particularly busty top to wear and want to give your girls an extra boost just Leave It To Cleavage.