Let's be honest: we put our skin through the ringer. Between the sticky summers and freezing winters, it can take a serious toll on our skin, which is why it's so important to make sure we're updating our beauty routines with the season. As the temperatures start to dip (or rather fluctuate depending on the day), we're looking to skincare pro and "chef" at Soapwalla Rachel Winard to get some expert tips on how to keep our complexions happy as the seasons change.
Invest in humidifier
"In the Northeast, we go from hot and humid straight into cold and dry, and our skin and sinuses suffer from the dramatic change in temperature and humidity levels" says Winard. "One of the best things you can do for your overall health is invest in a good humidifier." Not only will this keep the air regulated in your space, but it'll help prevent your skin from drying out. Winard recommends keeping a humidifier in the bedroom (for beauty sleep, of course) and stresses the importance of washing it once a week to keep it clean and properly functioning.
Switch to more moisturizing skincare products
Winard advises that "if you've been using lighter, more clarifying skincare products over the summer, now's the time to switch over to items that focus on repair and hydration." She goes on to point out that if you already have dry skin that tends to dehydrate further in the cold, you can double up on your facial moisturizer in the winter to give you that extra shot of hydration.
Avoid hot showers
When the temperature outside turns frigid nothing is more appealing than a nice hot shower to warm up, but it could actually be doing more damage to your skin than good. "As delightful as they feel, hot showers can over-dry your skin," says Winard. "Try to take lukewarm showers and then apply a body oil or moisturizer to slightly damp skin to ensure it soaks in."
Drink a lot of water
This should really go without saying because we all notice how glowing our skin is when we're properly hydrated, but in case you need a reminder, now's the time to go refill your glass. Winard highlights that "it's just as crucial to stay hydrated in the cold months as it is during the summer time."
These simple tips will help you move into the colder months with ease and keep you and your skin feeling great all winter long. Now, here are some great product recommendations to check out and consider swapping into your skincare routine.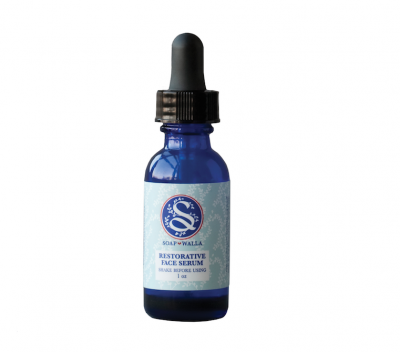 The Soapwalla Restorative Face Serum ($65) is a potent miracle-in-a-bottle that rejuvenates and revitalizes skin, visibly reducing fine lines and redness. The serum boasts a hefty combination of rosehip carrot seed oils, vitamin E, and evening primrose, apricot kernel and sea buckthorn oils to replenish the skin's moisture. This serum is vegan and made with the highest quality organic and food-grade ingredients.