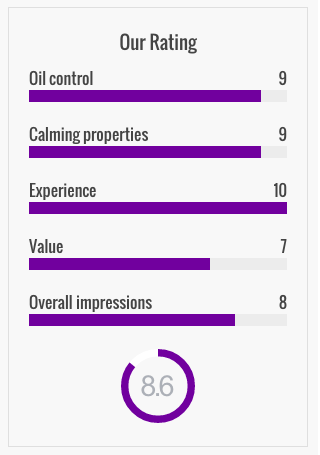 Full disclosure: I don't usually enjoy facials. I sit firmly in the instant gratification camp, and let's be real, it can take days for a post-treatment tomato red complexion to give way to visible results. When Dermalogica launched their new IonActive Power Treatment ($120) earlier this year, promising I could walk out fresh-faced, I was still skeptical but less hesitant about subjecting my sensitive skin to the test.
The 45-minute treatment is about therapeutic measures rather than the usual extractions, which some people live for. I get it, but no thanks. Trained skin therapists start with the brand's well-known skin mapping technique and diagnose any issues that need to be addressed. I was not surprised to be in the oily, sensitive category. The idea behind the treatment is to work with the skin's natural bacterium to target problem areas using thermal technology—ExoThermal or EndoThermal—depending on needs.
One of four serums is applied to the skin. Oligopeptide IonActive addresses hype-pigmentation, scarring and uneven skin tones. Hyaluronic IonActive acid is used on tired, dehydrated skin and helps bind water deeper into the epidermis, while protecting against pollutants. Retinol IonActive addresses anti-aging concerns with one per cent micro-encapsulated retinol for firmer skin and improved texture.
Niacinamide IonAcitve, which is the treatment line I experienced, targets acne-prone skin and combats clogged pores. Dermalogica developed these four product lines specifically to combat the most common skin problems. "Aging, pigmentation, dehydration and sensitivity are the top four concerns worldwide," says Dermalogica educator Charmaine Cooper. She promised I would be less oily the next day, and I did notice my skin was better behaved and looked less congested for not one, but several days afterward. I even decided to forego concealer and foundation altogether, just to keep a good thing going. Once the serum was on, the gelloid was applied over top and massaged into the skin with prongs to "ionize" the ingredients and get it to really absorb. The treatment even employs light therapy—in my case, a blue LED light—to give skin a boost. Cooper says the light doesn't necessarily make the serum more effective, but it does have calming and cooling properties.
I loved that the treatment was catered specifically to my skin, instead of being a one-size-fits-all approach, and the fact that I didn't have to go into hiding immediately afterwards. One session is enough for immediate results, but for more serious concerns, they recommended between three and six treatments every two to four weeks.
The Dermalogica IonActive Power Treatment ($120) is available at select skincare centres and spas across Canada