Every beauty and skincare addict celebrated when indie beauty darling Glossier decided to start shipping internationally this August. For a long time now, the brand has been a US-only operation, and that frustrated plenty of its global fans because for the most part, the products have a great reputation. Now that we finally have access to one of the coolest, most low-maintenance brands to enter the field since 2014, it's time to get testing, and the first stop, by right, is the brand's bestselling Milky Jelly Cleanser ($22).
There are a couple of reasons why this cleanser has such a sparkling reputation, but chief amongst them is its low-pH. Low-pH cleansers — which are quite common in Korea, a heaven for all skincare addicts — help maintain your skin's acid mantle much better than high-pH cleansers, which means that low-pH products clean without stripping your skin. The theory is, rather than over-drying your skin and then having to resupply hydration with your moisturizer, you should just stick to a gentle cleanser that cleans without punishing.
Rosewater constitutes a solid quarter of the ingredient composition, which means that the base of the formula is primed to be anti-inflammatory and rebalancing. Vitamin B5 promotes cell repair and reduce inflammation, while comfrey root extract helps heal and coddle dry, stressed skin. Oh, and this cleanser removes makeup too — is there any more one could wish for?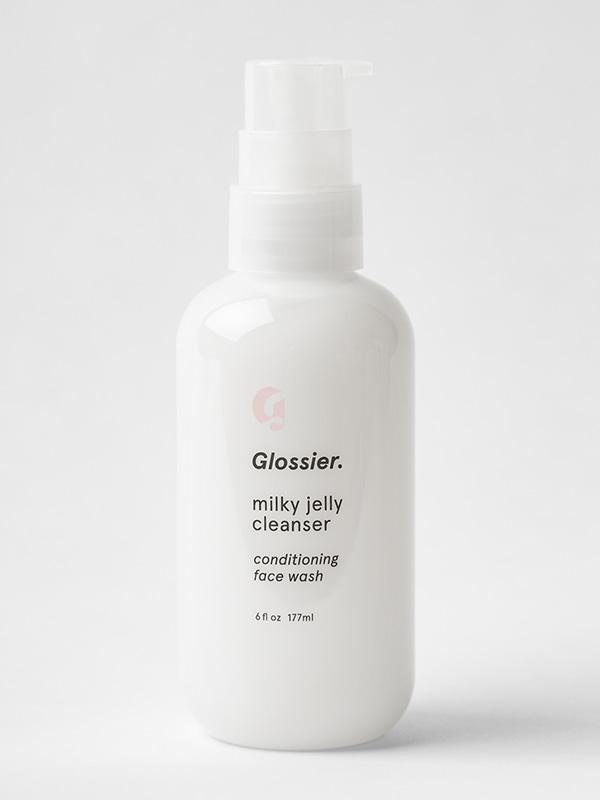 Many times, I have the displeasure of talking about how cult products don't actually live up to their name but this time, I can gladly report that the Milky Jelly Cleanser truly delivers. The jelly-like texture glides well and picks up impurities without irritating the skin; the gentle smell of rosewater is genuinely too mild to irritate, but not mild enough that you don't get a small, calming whiff of roses every time you apply it to the face. It removes makeup quite effectively — except with waterproof products, which may require just a bit of micellar water or cleansing oil instead. It's also gentle enough for even sensitive and sunburned skin (which I know from personal experience).
If I did have a complaint about this product, it would be the minor quibble that sometimes cleansers specifically formulated to be gentle can be too gentle to do their job effectively. I don't use waterproof products, but I tend to set everything I use with a layer of protection: liquid eyeliner is set with a matching powder, base makeup is set with a setting or finishing powder, and sometimes I even set my liquid highlighter with a highlighting powder — what can I say, I like to commit.
The problem is, sometimes, this cleanser is too mild to compete with quality makeup technique; sometimes the base makeup washes off effortlessly, but the highlighter-related sparkles remain on my upper cheeks and brow bone because they weren't pulled off by the cleanser. The gel texture works very nicely on wet skin, but that also means that you often need to dispense more and more to actually remove your makeup instead of just spreading it around thanks to the very thin layer of gel you started out with. As time goes by, one intuitively starts pumping out more and more cleanser with every wash to ensure that one wash actually does remove a whole face of makeup, instead of requiring a round two or a cleansing wipe just to complete the job.
In all, I do wish that Glossier's Milky Jelly Cleanser was just a little tougher on makeup removal so that I wouldn't have to use so much of it all the time, but that aside, I'd readily recommend this to anyone, especially if they have sensitive skin. Eczema and dermatitis-prone folks might want to proceed with caution — there are certain corners of the internet that discuss how the poloxamer (cleansing agent) triggers dryness and poor texture in delicate areas like the neck or under-eye regions — but the rest of us should be good to play with the Milky Jelly Cleanser to our heart's content, especially since it does seem like a happy medium between luxury and drugstore cleansers in terms of price, composition and branding alike. The first step in the Glossier skincare routine gets a commendable pass: it's a good reason to stop and smell the roses, if there ever was one!
Cleansing: 7
Texture: 9
Ingredients: 8
Hydration: 8
Overall: 8/10