A few months ago, wrapped in a haze of red wine and winter madness, I bought a tub of snail cream online. I'd long been itching to try the product with one of the largest cult followings in the Korean skincare market. As a beauty writer, I've always agreed that the proof is in the pudding, and as an enthusiastic eater, I'm always ready for pudding.
Supposedly, the slime snails secrete is a powerful humectant that suits most skin types, locks moisture into the skin, contains key antioxidants and even promotes tissue repair. Like I said, I was ready for pudding.
Enter Mizon's All-In-One Snail Repair Cream. As the story goes, when agitated, snails secrete a fluid rich in proteins, enzymes, trace minerals like zinc and copper and key nutrients like hyaluronic acid, and it's this slime that is at the heart of any snail cream. K-beauty experts tapped into snail mucin long enough ago that multiple brands boast in-house snail lines, but with a whopping 92 per cent of snail extract, Mizon's version packs a hefty punch. Unsurprisingly, that high percentage translates into a texture that's more like a thin gel than a cream. Too watery to classify as a serum and too thick to act as toner, Mizon's cream spreads easily and absorbs into the skin almost instantly.
Thanks to my combination/oily skin and occasional issues with redness, I folded Mizon's All-In-One Snail Repair Cream into my regimen readily, wanting the miracle to happen. Like an old favourite sweater, however, I soon found out that snail cream works far better as a layer than as a topcoat. I started applying it after my toner and before moisturizing most mornings and every evening, and soon enough my skin did travel better and feel more supple. I weathered a breakout or two, and the offending pimples faded with ease as well: though I've never scarred too badly, it's worth noting that the consistency of snail cream worked very well for irritated or parched skin.
Despite it's anti-inflammatory properties, it didn't really help my redness, but once the temperatures really dipped, a dab of snail cream followed by body butter worked wonders on hands and elbows. Winter ended and so did the tub: I remember thinking on multiple occasions that more moisturizers should sink into skin as fast as snail cream does.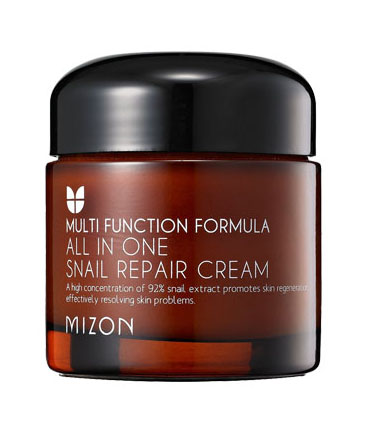 It's a versatile product and it never caused any reactions, but the truth is that I'm probably not reloading on the stuff till Canada becomes frosty again. At times, the mucin leaves a razor-thin layer of film on your face, and while not immediately inconvenient, it's unpleasant to wake up to. (No marks on the pillows, though.) Mizon's All-In-One Snail Repair Cream works great for soothing sunburns and troubled skin, but by relying too heavily on the star ingredient, the cream seems to fall short on supplementary ingredients that really nurture your skin.
I'm not looking for a good fragrance or five extra fatty oils—as a cream that focuses on repair, it would be nice to know that there's more than just one key player to rely on. My skin is a hearty eater too, so perhaps snail extracts just aren't enough of a meal. As an added step to any regimen, however, the cream blends in seamlessly and helps moisturisers and makeup go on easier.
Overall, Mizon's All-In-One Snail Repair Cream is worth a venture, even if it's just for bragging rights. There's nothing wrong with trying on the old favourite sweater of the beauty world—when times get rough or things get chilly, you'll find out why it's so well-liked in the first place.
Mizon All-In-One Snail Repair Cream ($38)