Gone are the days when the green beauty world consisted of so few natural makeup brands that you could count them on one hand. Today, green beauty is evolving at such a rapid pace that there are now countless brands that not only stack up to their conventional counterparts, they surpass them. Better yet, it's not just about what these natural products DON'T contain, it's about the good ingredients they DO. For many of us, foundation is the hardest product to swap when attempting to make the transition to natural products. To help us navigate the world of natural foundations, we sat down with professional makeup artist and green beauty advocate Sheri Stroh for answers to our burning questions. We also pulled together a list of our top picks to help steer you in the right direction.
BeautyDesk: How do you feel natural foundations stack up to conventional brands?
Stroh: I'm so happy with how far natural foundations have come! There once was a time where the shades were really off and coverage was patchy and longevity was anything but. Now we have all different textures with beautiful tones and coverage and finish options so with a little trial and error (same as the mass brands) you can more than likely find your perfect mate. They wear beautifully in real life but are also amazing in front of the camera, both still and motion and for the red carpet.
At what point in your career did you begin to incorporate green beauty products into your kit and what was the catalyst for it?
I began to be interested in green beauty in 2008/2009 and it was a bit of a lightbulb moment. I kept thinking, What am I eating? What am I putting on my skin? I read the book "Not Just a Pretty Face" and it really resonated with me, but back then there wasn't enough makeup out there that would stand up to being used for regular use let alone a photo shoot. The turning point to when I began to get really serious about this was when I was diagnosed with breast cancer in 2010 and it was estrogen receptor positive and it became my mission to dive into this new part of the industry and get it into the mainstream.
Everyone wants to achieve that flawless canvas with a foundation. How important a role do you feel the ingredients in foundations play in creating that canvas?
The problem I find with any foundation is that it makes promises that it will change your skin completely. A little part of that is true, but good skin comes from within and from taking care of it. You have to find a skin care regimen that works for you, stick with it (that means taking off all of your makeup before going to bed) and take care of yourself with a good diet, lots of sleep and ample hydration. More natural foundations are using ingredients that can help treat your skin, whether it's smoothing it out, adding hydration, protecting it or evening out skin tone. The one ingredient I do miss though is those silly silicones, they really do add a beautiful slip, but I have found great brands that have created beautiful products without them and they are only going to get better and better.
For people who are on the fence when it comes to natural foundation, what advice would you give them?
To find your perfect natural foundation may take a bit of time and definitely some trial and error. I think a lot of women would be surprised to find that there are amazing lines out there that are just as good or even better than what is available in their conventional brands. You have to go to reputable stores though and I will usually caution against heading to your local health food store for makeup and skincare. Boutiques that offer only high-grade brands and focus mainly on skin and hair care and make-up are the best places to hit as they have professionals who can help you and their stock moves faster too so you won't get a product that has been sitting around for a long while.
How important a role does skincare play when it comes to foundation?
Very important! Your skin is your canvas and the better it looks, the less base you can use and therefore, the longer it will last. The more makeup you pile on, the higher the chance it will come off and the more you have to touch it up. The right moisturizers, serums, oils and primers make a big difference as does the timing of applying all of them and letting them all sink in before putting any foundation on. Do your routine and give yourself 10 minutes or so and if there is still product on top, gently blot it off and then you can continue with your base. I'm also a big fan of facial mists/hydrosols from the very beginning to the very end; they not only prep your skin for everything, they also help to set your make up and help it melt into your skin by mixing with your own skin oils and the heat of your face.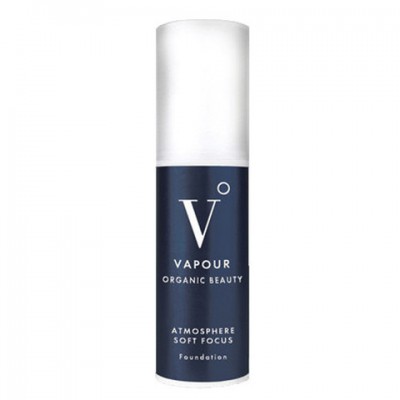 Vapour Atmosphere Soft Focus Foundation ($63) uses light reflective technology to soften the appearance of fine lines, wrinkles and pores while creating a luminescent finish to the skin. Available in 12 shades, organic pumpkin and papaya nourishes skin while camellia brightens and the infusion of frankincense, tulsi and lotus flowers work in harmony to deliver an anti-inflammatory, antioxidant and calming effect on the skin.