When it comes to eye makeup, I have a pretty steady hand and can create pretty cool looks with eye shadow and liner, however as soon as false lashes get thrown into mix, I'm at a loss. (I also refuse to get professional lash extensions because of horror stories I've heard from other girls about their real lashes fully falling out). Thankfully, I am blessed with naturally long and dark lashes that look quite good with a couple of coats of mascara, but on special occasions, such as attending a wedding or a special celebration, I love the extra dimension false lashes can add. The problem: I can't apply false lashes for the life of myself unless I get them applied by a professional. Last time I checked I don't have a personal makeup artist, so you can guess how often I actually get to wear lashes in the span of a year.  That's why when I saw Physician's Formula Eye Booster Instant Doll Lash Extension Kit ($20, available at drugstores nationwide), I knew I had to try it. The product claims that your lashes will transform effortlessly into  longer, lifted and defined eyelashes through the help of a 24-hour wear formula that doesn't clump or smudge and requires zero gobs of eye lash glue.
The kit includes a mascara with a lash-boosting formulation and then a smaller tube of extra long natural lash fibres that help make your eyelashes look extremely dramatic and sexy. Begin by applying a coat of mascara to your lashes. Be sure to cover each lash as evenly as possible as the mascara is what the lash fibres stick to. The pointy end of the mascara wand really helps to amp up the tiny lashes in the inner corners of the eyes and also allows one to wing out the lashes at the outer corners. Next, follow up with a coat of the natural lash fibres. To make sure you don't get random lash fibres stuck to your face (believe me they are hard to remove and especially stay put if you have a dewy finished foundation), when you pull the brush out of the fibre tube tap off any excess fibres into a sink or on a tissue. Then sweep the fibres onto your lashes as you would regular mascara.
TIP: Use a piece of tissue to cover the under eye and cheek area to prevent any remaining unruly fibres from landing on your face.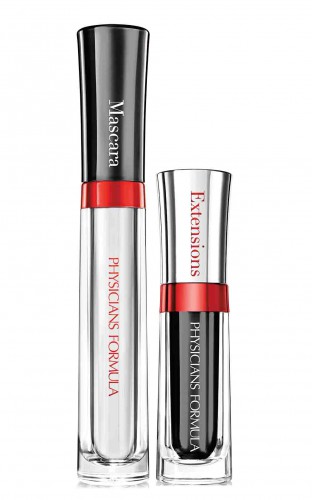 Finish off by sealing in the fibres with a second coat of mascara for an instant lash pick-me-up! If you're feeling extra bold and want a spider lash look, load on a second coat of the fibres followed by the mascara (I would rock this version more for a night out on the town with my husband, or a girls night of dancing, while the first look is perfect for a classy dinner, wedding or corporate event).
The verdict: Once I got the hang of applying the fibres to JUST my lashes (a.k.a. not making a hot mess all over my cheeks with the natural fibres. Disclaimer: I am naturally a clumsy person), I loved this product for quite a few reasons. First, the mascara formula is super smooth and doesn't irritate my eyes. Second, I would easily rock this version of lash extensions to a wedding instead of glue on false lashes because its just so easy to do and the mascara and lash extension duo can last quite a long time, so this product saves you money. After all, how many times have you found one rogue falsie fallen in your clutch, with its pair no where to be found? And finally, with continued use of this product you'll find yourself with thicker and longer lashes due to lash-boosting ingredients. Now that's amazing, right?! I KNOW! There's no question at all, you need this eye lash extension kit now!
Physician's Formula Eye Booster Instant Doll Lash Extension Kit ($20, available at drugstores nationwide)