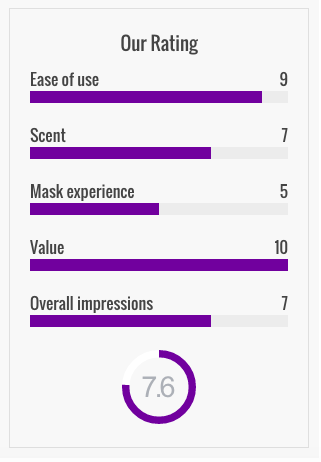 We talk a lot about skincare treatments and masks here at BeautyDesk, but we often skip out on more specific areas, such as your lips or hands when it comes to care. Sure, we can recommend lipsticks and stains for you, but not often do we tell you how to get that luscious pucker worthy of applying your favourite lip colour. Weekly beauty routines already feel like they include a lot, from a face mask, to under-eye gels and body scrubs and even to hair masks, but you should be adding one more to the list: Sephora Collection Rose Lip Mask ($4).
We've used lip scrubs in the past to get your pout impossibly soft and slough away dead, dry skin, but if you're anything like me then you find those scrubs too abrasive (and not always great-tasting). With the onslaught of targeted sheet masks (thanks to the rise of the best portable skincare treatment ever), it's no wonder that lip masks made the cut and this budget-friendly version from Sephora is worth a second glance.
Infused with hydrating rose (though this also comes in repairing shea if you need more nourishment), this mask (which costs less than your daily latte), aims to soften and moisturize your lips without any abrasive scrubbing.
As someone who will try almost any beauty treatment once (and as someone who is obsessed with masks in every variety), I gave it a shot. I took the mask out of the package and applied it over my entire mouth and let it work its magic. Admittedly, sitting with my
mouth shut (mostly to avoid any of the serum getting in my mouth) wasn't the most comfortable feeling, but the light rose scent was a nice sensory touch, especially since it sits so close to your nose.
After the requisite 15 minutes, I peeled the mask off of my lips. The hardest part of this was resisting the urge to rinse off the remainder of the serum (usually masks recommend that you work the remaining product into your skin, but my instinct was to rinse it off since it didn't taste the greatest), but after letting the remaining product dry, my lips did feel much softer.
While I may not use this as religiously as I do some of my other weekly masks, if you're searching for an alternative to the lip scrub, this does give a lot of value for your four bucks—just know that it doesn't taste awesome.