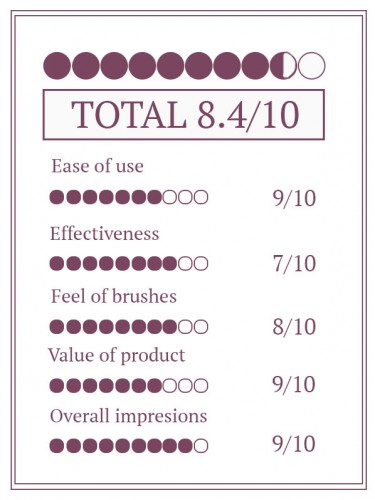 Let's get one thing straight: Most of us don't clean our makeup brushes nearly as often as we should. How often is that? Daily seems unrealistic, weekly is ideal but, oh goodness, at the very least monthly. For someone who writes about beauty for a living, there are few things that I don't practice in my preaching and washing my makeup brushes consistently is admittedly one of them. I know all about the bacteria that lurks in between the bristles that I apply on my face daily, but for some reason washing my brushes happens when I randomly remember, and usually when I'm procrastinating on doing something else.
When Sephora Collection's The Cleanse: Daily Brush Cleaner ($19) landed on my desk one day, I put it aside to test it out and even then it didn't make it into my bathroom for months. But, in a fit of procrastination-fuelled productivity, I finally gave it a shot, testing it against my regular hand soap to see which would be better.
To clean your brushes, you start by spraying a cloth or paper towel with the cleaning mist, and then rub your brushes into the towel until clean. Seems simple enough, right?
My first observations were simply that my brushes were disgusting. When I saw how much makeup was coming off of them, I vowed to make this a more regular practice (someone, please hold me to this!), but quickly realized that at a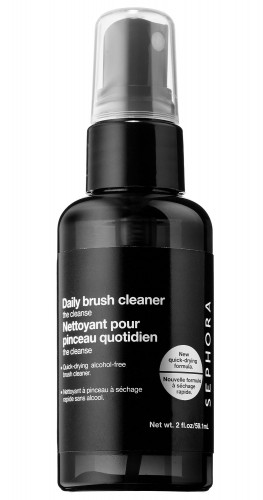 certain point, you really do just need to wash your brushes with shampoo or soap instead. While it didn't quite stand up to the challenge that is my foundation brush, I found it did wonders on my eye shadow brush and blender, leaving it looking clean.
Formulated with disinfecting tea tree, lemon, lime and grapefruit oils (which smell lovely together, by the way), this spray is meant to be gentle on both synthetic and natural brushes, though I suspect this will just add to the wear and tear that brushes go through. Then again, if you have good quality brushes and are washing them regularly (like more regularly than me–please don't take me as the example), your makeup brushes should last you a few years.
What I did love about this spray is that it's alcohol-free and quick-drying–within minutes of cleaning my eyeshadow brushes I was able to use them again, so this is perfect if you're working on a smoky eye or mixing some shades.
While I could see using this as a weekly cleaning step for my brushes, I would (in theory) still give my brushes a good deep clean once a month to get a little deeper into the bristles.