I've long wanted to try a peel treatment in the form of a daily toner. Exfoliating is important for everyone, but especially important if you're a guy because our skin is typically thicker and more prone to shave-induced irritation. Using a night-time peel is ideal because the treatment's exfoliating acids quickly slough away the day's dead skin, allowing your evening serums and creams penetrate more easily. In pursuit of the ideal daily-peel-toner, I found myself drawn to Vichy's Idéalia Night Peeling ($40) treatment.
The logic is simple: peeling treatments allow you to follow through with a daily, gentle exfoliation as opposed to a once-in-a-while, deep chemical treatment. Regular exfoliation helps increase cell turnover, and leads to clean, happy skin that is unobstructed by dead cells or residue from either daily pollution or the rest of your beauty regimen. Idéalia boasts glycolic acid as the main chemical exfoliant, while antioxidant blueberry and black tea extracts help nourish and condition your skin. Meanwhile, thermal water soothes even the most sensitive complexions, which is definitely a plus, as some peeling products can be a bit harsh on those with tender skin.
Used consistently at night, I noticed more refined pores and smoother skin texture. Along with those visible results, the true beauty of an exfoliating toner may be its ability as a supporting character in your skincare regimen: well-exfoliated skin absorbs night oils and serums almost twice as fast, and even the odd pimple fades away much faster. It's hard to pinpoint what–if any–effect the blueberry polyphenols and black tea extract had on my skin, but if they're not helping outright, they're not hurting anyone either in this formulation. Problem areas of my skin have calmed down over the past month as well, and I do think it's because my skin acclimatized itself to the daily peel (and I learned not to apply the treatment to any patch of skin that looks even slightly red).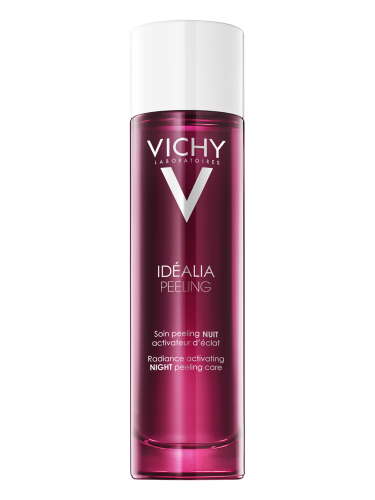 In all, I have to say that I'm a fan of this peeling treatment–it's an excellent gateway toner into the larger world of daily peels, since it seems a little more caring than some others on the market right now. I will say, however–(and the same goes for most products in your regimen)–is that peels don't work well alone. Once the upper layer is peeled off, the rest of the face yearns for nutrition, and that has to be supplied in the form of an active serum or face oil for you to really see an improvement in your skin. Idéalia Peeling promises radiant and luminous skin, but it only delivers the first step to the process by evening out the canvas–you still have to paint on it, using your favourite active serums and creams, to achieve ultimate luminosity and that glow we're always coveting.
To close up the topic, I do give this treatment points for being one of the best canvas-clearers on the market and for having an honest, gentle enough formulation that is welcoming to those who know nothing about daily-peel systems. At around $40 a pop, the Idéalia Night Peeling treatment might seem pricey for some, but for whatever it's worth, the results do show–in the beauty business, exfoliators are usually the one place where you know you're really getting your money's worth.
Exfoliation: 9
Scent: 7
Good with different skin types: 8
Layers well with other products: 9
Overall: 8.25