The Pink Ribbon hasn't unfortunately always stood as a symbol for hope for a cure. Considered public domain in most jurisdictions, many companies have used its image to position themselves as charitable when only a smidgen of their proceeds  actually go toward research (ie – pinkwashing). Not all brands are so dodgy, though. There are some great ones out there that are doing work to make sure money goes toward research, grants and awareness for the cause. If you want to make a point to support this month, make sure you look for transparency around numbers and an association to a quality organization. Here are our top Pink Ribbon brands to trust when choosing your charity picks for Breast Cancer Awareness month.
---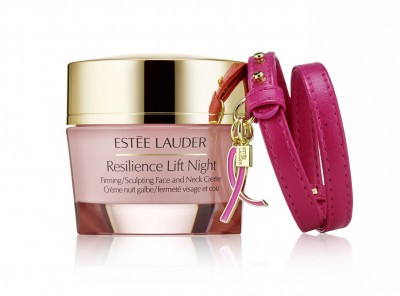 Estée Lauder Products
Estee lauder's BCA Campaign is a major supporter of Breast Cancer research grants – the Pink Ribbon itself was co-created by Evelyn Lauder, Estée's daughter in law. See the participating Estée Lauder products and collections. Among them, Resilience Lift Night Firming / Sculpting Creme, their night-time cream that works to intensify the natural restoration process skin completes during sleep, and the Evelyn Lauder and Elizabeth Hurley Dream Pink Collection lipsticks, which consists of three pure color envy sculpting lipsticks in Tumultuous Pink, Powerful, and Rebellious Rose. Estée Lauder will donate 20% of the suggested retail price to The Breast Cancer Research Foundation for both these products.