Halloween is that one time of year where you can transform into whatever character or creature you desire. You can max out your sex or scare appeal… or both at once. "Half-face" makeup is becoming increasingly trendy for Halloween but it seems that most of the time people commit to one character for half their face, leaving the other half as is.
I'm taking that to the next level and with showing you how to get extra freaky this year with a complete look that is both a touch scary and a little sexy, too. I pulled this one off last year, adopting two different classic Halloween characters: a vampire and a skeleton.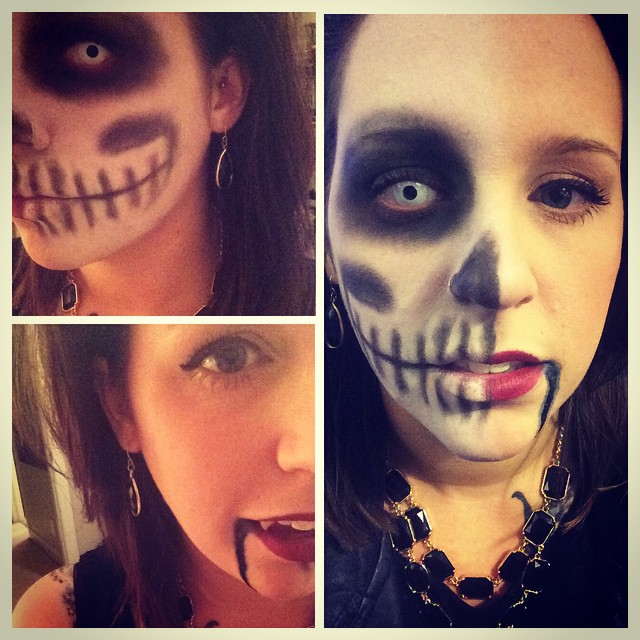 ---
The Skeleton Half

You'll need to sponge some thick, white face makeup over the other half of your face. You may find it easier to make the sponge damp as it will help spread the product over the skin vs. having to pull and rub it into place. For the black markings, you can use a black shadow and a soft black eyeliner. Begin by sweeping it around your entire eye in a large circle, covering up the the brow bone and across your lower eye area. Next, sweep a triangle shape from the tip of your nose, half way up the bridge. For the cheeks, create an oval shape within the hollow of your cheekbone. This will accentuate the look of the area around the hinge of your jaw. Draw a line from the corner of your mouth straight across and then join the end of the line with the end of the oval shape underneath your cheekbone. From there, draw horizontal dashes across the line of the mouth to give the illusion of skeletal teeth. The finishing touch of creepiness is with a single coloured contact. Order a pair online so you can choose from tons of colours—I went with white for a good contrast.