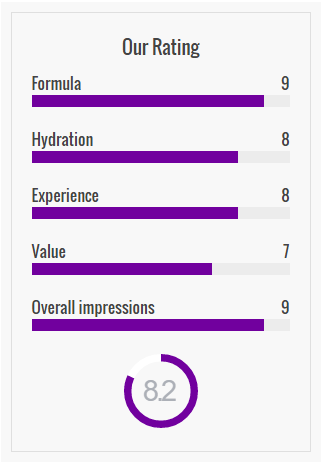 If you're a regular at your local Sephora, you've probably raised an eyebrow about it by now: it's elegant, it's understated and, for some reason, it's the only product that sits under the May Coop brand name both in stores and online.
May Coop Raw Sauce ($54) is one of the K-beauty field's ultimate crossovers, and after snail cream and cushion makeup, this essence's unique texture and impressive performance made it one of the few products to consistently ring the out-of-stock bell throughout Peach & Lily's 2015 season. Raw Sauce harnesses the versatility of maple sap: sap molecules are tinier than water molecules and closer in size to the particles in our internal fluids, which means maple sap absorbs faster and deeper, hydrating your skin from the inside out.
May Coop harvests its sap at the peak of spring–or May (get it?)–to preserve its potency, and white birch and chestnut extracts are mixed in even out the complexion. Rice and soybean extracts provide a gentle dose of antioxidants as well, and after running through my first full bottle, I finally understand why trend forecasters have had Raw Sauce flagged as a cult favourite for so long.
Raw Sauce's biggest plus point is how understated it is. A textural blend between a serum and an essence, thin like sugar syrup but more viscous than most skincare oils, it presents a tactile difference that few North American skincare products can mimic in addition to an uplifting, light fragrance. Thanks to its reliance on mostly natural derivatives, the scent reads like a walk through a pine forest on a crisp fall day and is a comforting experience when applied. The product itself truly does sink into the skin faster than any toner, which not only means that less of it evaporates thanks to surface heat, but also that succeeding products like SPF and makeup are not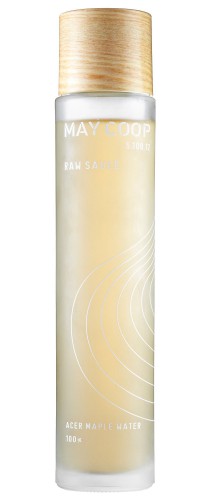 diluted by residual essence. Inoffensive and nourishing without being overly dense, it works equally well on sensitive and oily skin, and perhaps the best thing about the high maple content is that it agrees wonderfully with the Canadian climate. Even in summer, skin breathes very well under a veil of Raw Sauce and, on muggier days, it was preferable to moisturizer itself.
The problem, for some of us, may be in the price tag. At $54 a pop, the playmaker of the May Coop line is by no means the priciest essence on the market, but the skin drinks up so fast and enjoys it so much that entire bottles can run out pretty quick. If, like me, you don't use cotton rounds with your essences, it's worth noting that hands absorb Raw Sauce just as well as your face will, so the choice to get saucy rests, as always, with the individual. Raw Sauce does quite well in evening out skin texture and rebalancing moisture levels, so perhaps those willing to commit to this product fully might be fine defraying its costs by switching to less pricey moisturisers: trust us, the stronger your essence is, the less day cream you need to goop on to stay supple.
In short, there's a reason why Raw Sauce is May Coop's best brand ambassador: it's nourishing and gentle without being overly flashy. Those of us looking for versatile, one-tonic-fits-all solutions for reduced dryness and improved elasticity would definitely enjoy their first foray into sap-based cosmetics if the price tag doesn't offend. But hey, I'll see you at the counter as I'm cashing out my own second bottle–as summer blazes out and the fall wind starts snaking its way in, I already know I'm going to be relying on this one for the rest of the year.
May Coop Raw Sauce ($54)