Summer is unofficially upon us and while the weather is starting to cooperate, you likely haven't gotten a lot of time to hang out in the heat and get your glow yet (with your SPF 30, of course). Believe it or not, I'm fairly new to the whole self-tanning experience. I've had exactly one spray tan in my life and, while I liked the results, I just couldn't get past the smell. Even so-called scent-free tanners I've come across are no match for me since I'm on par with a bloodhound when it comes to fragrance. In preparation for a few upcoming summer events, I thought I'd give a couple of the tinted body lotions a try and see if that summer suntan can really be faked. First up was the cult favourite brand St. Tropez and the newest launch: St. Tropez Gradual Tan Tinted Body Lotion ($38).
I came across this product at a summer beauty preview and decided to give it a try on only one of my legs because I figured it would require almost no commitment for a dramatic payoff. One of the biggest concerns when it comes to tinted body lotions is usually the colour transfer and the smell. Thankfully, neither were an issue for this guy. There is a scent to this lotion, but ironically because a "mood-enhancing fragrance" has been added to the formula specifically to compliment and mask the typical DHA scent, it didn't bother me as much. (Thankfully, the brand completely reworked the entire line's formula to mitigate the overpowering DHA scent.)
I used this lotion five days in a row, and even though I wasn't super careful with my application, I was surprised it didn't streak. Since it's meant to be applied daily, the effect is subtle enough that any mishaps aren't noticeable. I was very impressed that it didn't transfer onto my clothing or white towels at all, and because I was prepared to hate it, I was careful to inspect everything. I was a little concerned as it required a little more rubbing in to spread the colour around on my skin, but after it was all worked in, the soft tint and fast-absorbing formula allowed me to get dressed and head out the door almost immediately. If you're looking for something that delivers a quick glow, this is totally it, but it's not the most hydrating of formulas.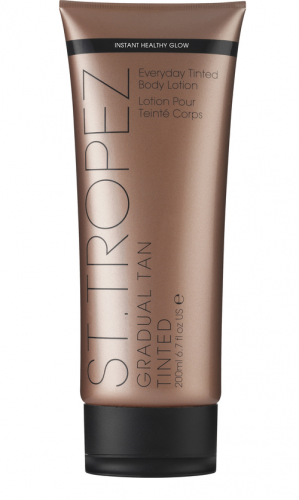 Even though it was a sweaty day in the city, there was no colour transfer at all (I even dared to wear this with a pure white dress and still nothing). What I did find was when I occasionally scratched an itch on my arm or leg was that some of the product did come off on my nails and then had to be careful about touching my clothes. Since it is a tint, it does wash off when you take a shower, but the "gradual tan" part of it does last a couple of days—long enough to reapply and build upon it anyway.
Overall, I noticed my right leg was less pink than my left and any bruises or veins were better camouflaged after using the lotion. It seemed to even out my skin tone and give it a glow thanks to illuminating particles that act as a built-in highlighter. If you're looking to go a few shades darker instantly, opt for one of St. Tropez's mousses instead since this is very gradual as advertised. It gave more of a healthy glow than a tint, but not quite the equivalent of the tan you'd get after spending a week in the real St. Tropez.