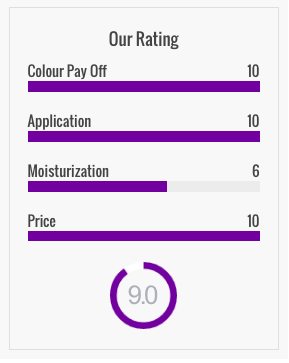 If you're a lip product junkie like me, you've come to appreciate the popularity of the jumbo lip pencil and I recently grabbed the Revlon ColorBurst Matte Balm to see if these lip colours would hold true to their matte claim
These oversized pencils make lip colour easy with the 2-in-1 benefit of a lip liner and colour in one step.Gone are the days of a separate lip liner to prevent your lipstick from "bleeding" outside your lip line. In just one stroke, you get a defined, colourful pout.
For a matte lip product, this goes on incredibly smooth. It feels like satin is being brushed on your lips and the colours are highly pigmented. They weren't kidding when they named them ColorBurst. I also noticed that when I applied it to my lips, it left a refreshing minty scent behind (minus the menthol-ish tingling sensation).
For those looking to spice up their pout with deep, vampy colours this Fall, give "Sultry" a try for a rich brown shade with touches of red. "Shameless" is the ideal hit of bold and bright purple and "Standout" offers the the perfect always-in-style scarlet red.
Although the pencil glides on smoothly, you'll definitely want to prep your lips with a nourishing moisture balm before applying. Since it is a matte finish, you can't expect miracles in the hydration department. Because the colour is very opaque, you may also encounter lines and crevices showing up your lips, so avoid it by using a solid balm before hand.
In the end, though, if you;re aiming for an easy, one-step lip colour in a matte finish for Fall, this pencil offers a highly pigmented finish at a price point that allows you to purchase more than one shade for you autumn lip wardrobe.
Revlon ColorBurst Matte Balms are available for $9.99 at mass and drugstore retailers across Canada.