Pantone recently announced the 2016 color of the year and, for the first time, it's a blend of two shades: Rose Quartz and Serenity. It's the year to embrace the warm rose tone along with tranquil blue hues. Like every year, this important colour selection will dictate the trends for the coming year in the beauty and fashion industry.
Collaborating with Pantone Universe for the 5th year, Sephora has unveiled an exclusive collection of products featuring the two shades and, yes, there is indeed a tranquil blue lipstick in the mix. Here's a glimpse at the Sephora + Pantone Universe Color of the Year Collection.
---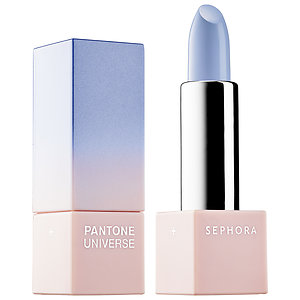 Serenity Matte Lipstick ($23 CDN)
This blue shade is sure to set the tone for 2016. This pastel blue is a matte formula meant for layering and mixing with other colours for a "cool"ing effect. We suggest pairing it with your other lip shades vs. sporting this one on it's own. That may be best left to the pages of some high fashion editorial.