The CC cream has been around almost as long as the BB cream made it's first mark in North America. It is still, however, a mystery to some. We wanted to help uncover what it is, if it's right for you and also some options for you to try it out for yourself.
---
What is it?
While there is no one definitive answer to what the "CC" in CC cream stands for, we've come to accept that it is designed specially for some sort of colour correction. Whether it represents "Colour Control", "Complexion Corrector" or "Colour Corrector", as long as it sets out to do what the particular formula promises to deliver. The consistency of some CC creams are typically more thick to provide better colour coverage than a BB Cream.
What makes it different?
Best described as being BB cream's more sophisticated sister, CC creams share certain similarities to their counterpart, the BB cream. They can provide essential hydration and sheer foundation-like coverage, as well as SPF( depending on the formulation), the main difference is a CC cream focuses particularly on colour correction. This helps to improve uneven skin tones and conceal imperfections at the same time.
Why you need CC creams in your life
A lot of women are gravitating more towards the "naural" or "nude" look and, in turn, CC creams have gained popularity thanks to their daytime wearability. These multi-tasking products help reduce the amount of time spent getting ready in the morning while targeting uneven skin tone. It's a win-win for those who are looking for a hint of colour correcting in the morning without having to sacrifice their skin care routine.
Here are a few CC creams that we love:
---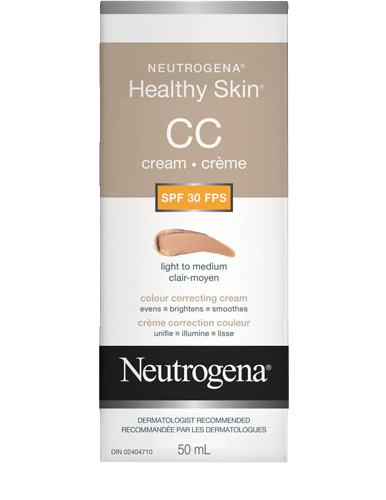 NEUTROGENA CC Cream SPF 30 ($13.97) is an all-in-one skin perfecting beauty product that instantly corrects your complexion. Essential Soy® extract helps to reduce the appearance of dark spots and discolouration while also acting as a brightener to even out skin tone.