Are you like us and tend to carry a TON of products back and forth from home to office? With the weather getting colder, having to carry a heavy purse along with donning a bulky winter coat and boots (not to mention carrying office shoes with us too), this task is starting to seem more daunting. We decided, instead to create a semi-permanent home for some of these products so they'll always be on hand when we need them. Just fill an extra makeup bag with these staples and keep them in a drawer at your desk; or better yet, create a little bit of drawer space dedicated to these must haves! Check out the winter beauty essentials we always on hand at the office.
---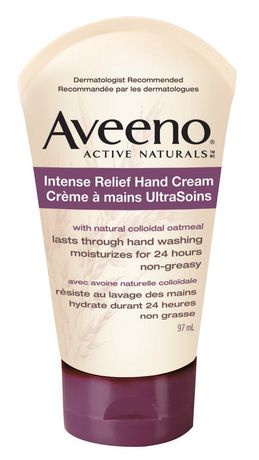 Aveeno Intense Relief Hand Cream, $7.47
Office heat can wreak havoc on hands and nails. Be sure to keep a non-greasy but moisturizing hand cream available at all times. Not only will this do the obvious and keep hands and nails looking their best, but it helps ward off the dreaded office injury: the paper cut!