I have been working my way through a hefty lipstick summer trying to find my favourite formula. I have been through your regular solids, your watery stains, lip/cheek combo products and quite a few liquids. I have seen matte, sheer, gloss and everything in between.
So when Maybelline Lip Studio Color Jolt Intense Lip Paint ($10, available at drugstores) was released, I figured I knew what I was getting into. It's a liquid, it has a gloss to it, sure the tube looks a little different, but it can't be that different from everything I've tried… right?
Nope. No way. Now please prepare yourself because I am about to rave about Orange Outburst, my new favourite lip colour by Maybelline.
As soon as I opened the teeny tiny tube, I was hit with the scent. The fruity watermelon fragrance brought me straight back to my lip smackers days. It is fun and nostalgic without being too overwhelming. These little dudes smell like no lipstick I have used. Lip glosses? Definitely. Lipstick? No way.
When I squeezed out the first little bit of Orange Outburst I could tell right away that I was dealing with a rich pigment and the first few strokes proved it. The squeezable tube and the felt-tip applicator at the end of it mean that you have a lot of control over the amount of product you end up with. You can start with a lighter layer and build up colour until you've reached a tint you like.
Every time I put on my Orange Outburst lip paint, I expect it to go on heavy and thick like your worst, glossy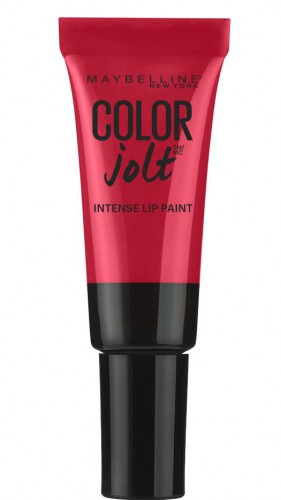 nightmare. You know the feeling. That feeling that, as soon as a light breeze picks up any of your hair, it is instantly papier mache'd to your lips. And then your hair and your face and your hands and your entire life is coated in this sticky, shiny, slime until the end of time.
These paints are surprisingly light, not horrifyingly sticky (or all that sticky at all, really). They are actually super comfortable to wear. Not only will they not glue up your mouth, but they also won't dry your lips out.
Don't get it twisted, though. These colours are intense. A little goes a long way to adding a bold lip to your look. And less product on your lips means less trouble later in the day. The lip paints fade quite nicely. Rather than disappearing entirely, they a leave a little bit of a stain on your lips so you aren't left without any colour.
Overall these little tubes of pigment smell great, wear beautifully and are more versatile than you might expect from such a richly pigmented lip colour and are available in eight different shades, ranging from the more in-your-face bold Orange Outburst to a more muted Stripped Bare.
Maybelline New York Lip Studio Color Jolt Intense Lip Paint ($10, available at drugstores)